Happy Fourth of July weekend everyone! I hope y'all are enjoying it! I sure am. We went to the Paris Street market yesterday, the Cherry Creek Arts festival today, and the mountains tomorrow for a hike with the dogs! Of course, a couple of backyard BBQs are in store! The 4th of July is always one of my favorite weekends as there is always so much to do!
I'm making this kind of short as I need to get going and I know y'all have a bunch going on too, so here it is. My contribution to this weekend get together's will be baked beans. I was totally craving them and I'm catering a party in a couple of weeks and needed to come up with a "Colorado" themed menu that needed another side dish. I normally don't like the overly "sweet", molasses-laden, Boston style baked beans that give you a sugar high so I opted to mix things up and came up with my version. Mile High Baked Beans! A little sweet, tangy, spicy (kinda like me, lol), loaded up with smoked sausage and yes, Bacon! It's screams Colorado with the added green chili to the mix! Forget Boston Baked Beans, Mile High Baked Beans are where it should be! It will be a new favorite and I know the guys that I'm catering the party for (they are from Boston, which is funny) will be converted too!
Happy Forth of July everyone and God Bless America!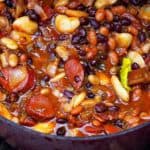 Print
Mile High Baked Beans
Mile High Baked Beans are not your average baked bean recipe! So hearty you could eat it as a meal!
Ingredients
1

pound

bacon

chopped

1

large onion

diced small

2

tablespoons

garlic

minced

1

pound

Smoked Sausage or Kielbasa

sliced thin

1

cup

diced green chili

I used the 505 brand

1

cup

brown sugar

1/4

cup

apple cider vinegar

3

tablespoons

brown mustard

2

tablespoons

Worcestershire sauce

1

cup

ketchup

1 1/2

teaspoon

salt

2

teaspoons

pepper

2

15 ounce cans butter beans (drained and rinsed)

2

15 ounce cans pinto beans (drained and rinsed)

2

15 ounce cans black beans (drained and rinsed)

2

15 ounce cans cannellini beans (drained and rinsed)
Instructions
In a large heavy stock pot, cook the bacon until browned and crispy. Remove from pan and drain on paper towels. Leave the bacon grease in pan.

Add the onions and sausage and cook on medium heat until the onions are soft for about 5 minutes. Stir in the garlic and green chili and cook for another minute.

Add the brown sugar, vinegar, mustard, Worcestershire sauce, ketchup, salt and pepper. Stir well, lower the temperature to low and let simmer for 15-20 minutes.

Sir in the beans and the reserved bacon to the pot.

Either heat up your oven or grill to 300 degrees. Either transfer the beans to a high sided baking dish or leave in your stock pot (if it's oven proof) and bake for 1 hour stirring occasionally to make sure everything is incorporated and to prevent from drying out.
Notes
If there are leftovers, they can be placed in zip lock bags and frozen for later!