Wow! One holiday down and a couple more to go! I hope y'all had a great Thanksgiving! Now on to bigger things! LOL! I had a great holiday. I got to see my brother and his family which was amazing because it had been a year since I had seen my nieces! Wow! They are turning into smart, gorgeous, polite, well mannered, creative and athletic young women. An Auntie couldn't be more proud for sure. What's even better, they think I'm pretty cool and they love my dogs. Best Thanksgiving EVER!
One thing that is great when you have visitors in town you get to do all the "touristy" stuff that you never do because you live here! Besides the three hikes that we took, we had a dinner party at my place, we took a mine tour at the Argo Mine in Idaho Springs (I have driven by this place 1000's of times in 26 years and have never done it). It was fascinating and a good experience to understand Colorado history. We took a sleigh ride (ha, pulled by mules because we have no snow). It was fun as it was perfectly clear and the stars were brilliant. Finally, we went to the Denver Center for Preforming Arts and saw a production of "A Christmas Carol", one of my favorite classic stories. I'm not sure that we could have packed in anything more for the few days that we had together!
To end my packed week off, I hosted an impromptu cocktail party for my dear friends who are moving to Cincinnati on Sunday (oddly enough to my old neighborhood, literally a block from where I grew up) and I got to hang out with my brother from another mother and his friends on Tuesday night. Wow, that was fun. Nothing like meeting up with one of your best friends AND being the "token" gal on a "guys" night out. Thank you UBER. It took me a couple of days to recover from that! LOL!
So this week's recipe, Sausage Tortellini Soup, is inspired for my sister in law. Heather (yes there are two Heather Blake's in my family). She asked for an easy recipe to make for a quick week night meal because everyone is so busy during this time of year! I always go to "soup" for an easy meal because it's a food group to me (along with french fries). I personally love soup and it's so easy to put together. I decided on Italian sausage because it's filling but I added a bunch of vegetables to make it a healthy meal. I rounded it off with a big bunch of kale as Heather loves it (but use whatever greens you like) and serve with a crisp green salad. Sausage Tortellini Soup, kinda a perfect dinner for me! This soup has been my go to food for the week! Delicious and easy!
Enjoy your week! Oh, the Broncos just won. Thank goodness after last weeks horrible loss!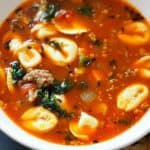 Print
Sausage Tortellini Soup
A super easy dinner recipe that comes together in about in a half an hour!
Ingredients
1 10

oz

packeage refrigerated Tortellini's

1

small onion

chopped

3

cloves

garlic

minced

3

carrots

diced or sliced into circles

1

pound

Italian sausage

either sweet or hot

1

sweet pepper

diced (I used an orange one)

1-2

bay leaves

2

tsp

dried basil

1

tsp

salt

1

tsp

pepper

1 15

oz

can diced tomatoes

1 15

oz

can tomato sauce

6

cups

chicken broth

1

bunch kale

leaves separated from stem and chopped
Instructions
Cook tortellini according to package directions. Drain and set aside.

In a large stock pot, heat about 2 tbs of olive oil to the bottom of the pan. Add the sausage and cook until there is still a little pink in the middle. Break up with a spatula. Add the onions, carrots, garlic, pepper, bay leaves, basil, salt and pepper and cook until the vegetables become soft. About 5-8 minutes.

Add the diced tomatoes, tomato sauce and chicken broth. Simmer for a half hour or so. When you are on your last 10 minutes of cooking add the kale and cook until wilted.

When ready to serve, place a handful of tortellini in the bottom of the bowl and ladle the soup over.

Serve with crusty bread and Parmesan cheese.
Notes
If you want to lighten this soup up, substitute Italian Turkey sausage instead!
Don't like Kale? Substitute escarole or a fresh bag of spinach.