I am finally playing catch up from the past couple of weeks and fall has pretty much come and gone in Denver. It's been flat out beautiful here! I swear if every day could be in the mid 70's and sunny I'd be the happiest gal in the world! Make sure that you check out the photos below! Man, the open space behind my house was stellar! We are all obsessed with the Aspen trees, but I will say the Cottonwoods and Maple trees are just as amazing. They just glow! In my opinion, Colorado is nothing to sneeze at when it comes to fall foliage. It's glorious and I'm just in Denver! Wow!
So when I say, Fall has come and gone. It's true, seriously. A few windy days and most of the leaves are gone. It's crazy how that happens. Here one day, gone the next. With all wind, something kicked up in the air and I got a horrible cold this past week. So bad in fact, that I hardly got out of bed. I made it to tennis one day but that was a bad call on my part. I know when I don't feel good. I had to call subs to cover my tennis time. I'm not sure this has ever happened before, at least for a whole week!
So when I am sick, I'm not an eater. Some people "feed" a cold, I, however, "starve" a cold. It's hard for me to even think about food let alone have anything taste good. Knowing that I have to eat, I have to force myself and chicken soup for me is my goto nourishing food. I really do love chicken soup so it's an easy choice for me! This is not your average chicken soup though. It's not your average chicken soup because I have made it with unexpected vegetables like zucchini and cauliflower along with a healthy dose of onions, shallots, and garlic to give it that extra immune boost. The added wine and romano cheese make it extra special. Kinda like that "hug" that I needed this week! This soup is not your average chicken soup as it has "hugging" powers! Lol! It's true. Try it next time you are feeling crummy or if you are are craving the ultimate comfort food! It is true, chicken soup is good for the soul. I think I'll have another bowl now!
Since it's been a couple of weeks, I added some fun pictures from a baby shower that I catered a couple of weeks ago! It was a great day celebrating baby LuLu. We all had a great time and the "Eggstravaganza" was a hit! Four variations of "quiche" type dishes, a coconut cake, a key lime pie, salads, and bruschetta! We all left full and Lulu left with lot's of new friends!
Enjoy!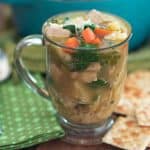 Print
Not Your Average Chicken Soup
This is not your average chicken soup. Why? Because I said so! Lol! It's kicked up with vegetables, cheese, and wine that you would not normally expect in just your average chicken soup!
Ingredients
olive oil

2

boneless

skinless chicken breasts, diced (approximately 2 cups)

1/2

cup

diced onions

1/4

cup

diced shallots

1

cup

diced carrots

1

cup

diced zucchini

1

cup

cauliflower

break down the florets into bite-size pieces

2

handfuls fresh spinach

approximately 3 cups

1

rosemary sprig

2

bay leaves

2

teaspoons

Italian seasoning

1/4

teaspoon

cayenne pepper

1/2

teaspoon

salt

1/2

teaspoon

pepper

1/2

cup

white wine

I used chardonnay

6

cups

chicken stock

preferably homemade

Pecorino Romano cheese

or Parmesan

1

pound

small noodles

I used Fideo cut spaghetti
Instructions
Coat the bottom of a large soup pot with olive oil and heat to medium. Add the chicken, onions, shallots, garlic, and carrots and saute for about 7 minutes. Add the rosemary, bay leaves, Italian seasoning, cayenne, salt, and pepper. Stir to combine well.

Add the wine and the chicken stock and stir to combine. Cover with the lid and turn the heat down to a simmer and cook for 20 minutes.

While the soup is simmering, cook the noodles according to package directions. Drain and set aside. (Drizzle olive oil on cooked noodles to prevent sticking).

After the soup has simmered for 20 minutes, add the zucchini, cauliflower, and spinach. Cook on low for about 10 minutes or until the vegetables are cooked through.

To serve, place a desired amount of noodles in the bottom of a bowl and pour the soup on top. Add a desired amount of cheese on top. (I like a bunch of cheese).
Notes
Chicken noodle tip! Store the noodles in a separate container to prevent them from getting mushy. Just add them when you want to eat them with the soup!