I'm gonna start out by saying that I am completely inept when it comes to anything that has to do with computers and websites. The administrative side of my site went down last week. Apparently, there was an update to my site that wasn't compatible with a plugin or something. Who knows but after a few tears and the super great technical people over at Go Daddy, I finally was able to get back on this week. There are still a bunch of components missing from my site which I will hopefully figure out this week. Wish me luck on that one!
Since it's been a couple of weeks since my last post. Thanksgiving was a huge success! We ended up with 8 people and 4 dogs. Perry (the Bouvier), Libby (the Burmese Mountain dog), Charming Charlie (the Labradoodle), and Tommy (the Carin Terrier). I can't believe it but all the dogs loved each other and there was zero begging at the table!  That in itself was a big win! Our dinner was lovely filled with amazing food and lively conversation. I'm looking forward to having more Thanksgiving at my house in the future.
One thing that happens as we eh hem, age. Is that our appetites diminish and leftovers are a given. I did pretty well with not making too much food but I did have a lot of mashed potatoes left over. Since I'm not the gal that would just eat a bowl of leftover mashed potatoes, I decided that a soup would be great! I ended up with this Loaded Mashed Potato Soup made completely with leftover food in my refrigerator! Who knew that leftover mashed potatoes would be a perfect addition to make a creamy thick soup! I guess it would make sense though. Butter and cream are the main components of mashed potatoes so when you whisk in some chicken broth you end up with a perfectly rich and hearty soup! I made it "loaded" by adding all the things that we love on a good baked potato! Bacon, cheese, sour cream, and sliced green onions! I know the next holiday is Christmas and mashed potatoes are great with a big prime rib. Maybe make some extra mashed potatoes and make this Loaded Mashed Potato Soup with the leftovers!
Since it's been a couple of weeks, I'd be amiss if I didn't mention something cool that I got to do a few weeks back! My friend  Lea Ann got us to press passes for the grand opening of the new Whole Foods at Union Station in the LODO neighborhood of Denver! Wow! What a beautiful store in a brand new location in Denver.  I had no idea that the city that I have lived in for 27 years has changed so much. It's really cool and hip. The Whole Foods is so big and offers so many varieties of foods besides the ordinary grocery fare, that I would seriously take the train down and eat lunch there! I'm actually a bit jealous of the folks who live nearby that they have such an amazing store within arms reach! This store is not only good for the people downtown but I'm sure it will be a great destination for the tourists that visit our city! See the pictures below! I'm sure that you would agree.
Enjoy and give the Loaded Mashed Potato Soup a try. It's really tasty!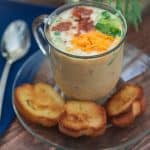 Print
Loaded Mashed Potato Soup
Loaded Mashed Potato Soup is an easy and delicious soup to make when you have leftover mashed potatoes! Next time you make mashed potatoes, make extra so that you can make this soup!
Ingredients
12

ounces

bacon

1

cup

diced onions

1

tablespoon

minced garlic

4-5

cups

leftover mashed potatoes

2

bay leaves

1/2

teaspoon

salt

1

teaspoon

pepper

6

cups

chicken broth preferably homemade

2

cups

shredded cheddar cheese plus additional for serving

1/2

cup

sour cream plus additional for serving

1/2

cup

thinly sliced green onions plus additional for serving
Instructions
In a large soup pot over medium heat, cook the bacon until it is crispy. Transfer to a paper towel to dry. Drain the pot of the bacon fat leaving 2 tablespoons or so. Crumble the bacon and set aside.

Add the onion and the garlic to the pot and cook until it becomes translucent about 5 minutes.

Add the mashed potatoes, salt, pepper, and bay leaves. Whisk in the chicken broth and simmer over low heat for 20-30 minutes.

Remove from heat and add the cheese, sour cream, 1 cup of the reserved bacon, and green onions. Whisk until combined and the cheese melts.

Serve immediately with reserved bacon, cheese, sour cream, and green onions.
Notes
Tip! If you don't have leftover mashed potatoes, your grocery store deli always sells it over by the roasted chickens!