It seems only fitting to make Korean food this week since we deep into watching the Olympics! Or at least I am! Lol! It's been fun to watch, especially the kid from Silverthorne, Colorado, Red Gerard. I used to live up there and I'll tell you, Silverthorne is pumped for it's new star! So pumped that they renamed Silverthorne to "Goldthorne". Haha. Funny, right? I hope the kid gets to see that. What an honor! Good for him!
So I decided to make these Korean Barbecue Ribs because of the Olympics and I am trying to make recipes with food that's in the freezer! I had some pork ribs, so these pictures are of that but I will say that you could use the marinade on a flank or skirt steak and of course Korean short ribs. The marinade is a little sweet, a little savory but has a nice "kick" from the gochujang sauce. (All the grocery stores in my area carry this in the Asian section). I made my version in my Dutch oven but you could easily pop this in your crockpot for the day as well. Just finish the sauce as noted in the directions. Definitely, give this a try. Maybe for the closing ceremonies! Make a fun Korean feast! Remember to pass the kimchi!
I just got back from a fun-filled weekend with the gals in Winter Park. Wow! We couldn't have had a more perfect weather weekend! High's in the 40's and not a cloud in the sky! You will see from the pictures below! The Indian Peaks mountain range is just breathtaking and we were lucky enough to go snowshoeing to experience it for ourselves! So much fun and believe it or not it was hot! I'm glad that I had a backpack because the hat, gloves, and scarf needed a place to go! LOL!
We finished up Saturday with spa treatments at Devils Thumb Ranch. Well, if this isn't one of the coolest facilities that I have ever visited, I'd be lying. Wow! To die for views, amazing restaurants, a world-class spa, cross-country skiing, hiking etc. I can't wait to go back in the summer. I may even bite the bullet and spend the night. Something to plan for cause it's pretty expensive, but one of those things that you "should" just do!
Anyway check out all the pictures and enjoy the recipe! Until next week…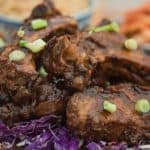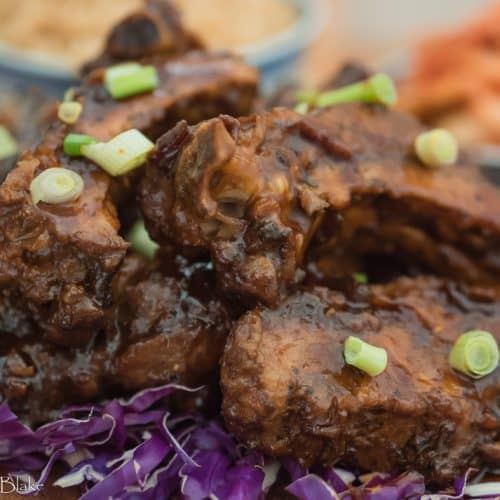 Print
Korean Barbecue Ribs
Ingredients
3/4

cup

Pineapple Juice

3/4

cup

low sodium Tamari Sauce

can substitute soy sauce

2

tablespoons

rice wine vinegar

2

tablespoons

minced garlic

1

tablespoon

minced fresh ginger

1/2

cup

brown sugar

2

tablespoons

Gochujang sauce

substitute chili garlic paste

1

tablespoon

sesame oil

1

cup

thinly sliced onions

1

teaspoon

black pepper

3-4

pounds

pork or beef ribs

1/2

cup

sliced green onions

for serving
Instructions
Preheat oven to 300 degrees

In a large dutch oven, add the pineapple juice, tamari, vinegar, garlic, ginger, brown sugar, chili sauce, sesame oil, pepper, onions and, beef broth. Heat over medium-low until the sugar has melted. 

Season your meat of choice with salt and pepper. You may need to cut the racks of ribs down to fit in the pot. Add to the dutch oven and cover. 

Bake for 3-4 hours or until the ribs can be pulled easily apart. Remove the ribs from the pan and set aside. 

Place the dutch oven on a medium-high burner in the stove and bring to a boil. Cook until the liquid has reduced by half. (About 10 minutes). 

At this point, it's your decision. Baste the ribs with the sauce and serve or you can put on a high heat grill to crisp them up to your liking. 

Serve with sliced green onions.