A few weeks back, I posted a recipe for homemade  Fresh Peach Nectar. Having all that delightful juice on hand inspired me to make a cocktail with it. Boy did it! The peach nectar is a perfect base for light and refreshing Peachy Keen Cocktail! I added the fresh flavors of peach schnapps, blueberry vodka along with regular vodka to create a drink that just screams summer. It's a perfect drink to sip while you are manning your grill or just enjoying the last days of summer. It's just peachy keen goodness in a glass.
While I was experimenting with this drink serendipity struck and Black Box Spirits contacted me and asked if I would be interested in working with them on a project. Of course, I was intrigued because I have been a fan of Black Box Wines for years. Black Box wine has been a staple for our tennis teams and our after game picnics as they are portable, handy (no corkscrew to remember) and most important, it tastes good to boot! So you can imagine my excitement when they said that they are producing spirits that include vodka, tequila,  and whiskey. Since I don't drink tequila or whiskey, they sent me their vodka to test!
I was pleasantly surprised by how good this vodka is.  Some lesser expensive vodkas have a heavy, thick taste that entices a quick headache but not this Black Box vodka. I really enjoyed the crisp, clean and smooth taste of it and the best part, zero headaches from drinking it. (Even when I poured one too many cocktails. I did this for testing purposes only. Wink Wink). I guess it's because it is triple distilled and five times filtered to make such a premium product.
In my opinion, there is a new sheriff in town on the vodka front. This is a great product. I will certainly be buying this as a vodka of choice in the future. Check out their website to see if it is available in your area. They are in the process of rolling out their products around the country but it's not available everywhere quite yet. So be patient. It's worth the wait!
Enjoy this cocktail and this vodka. Of course, remember to consume responsibly.
***This is a sponsored post by Black Box Spirits. I received payment for review of their product.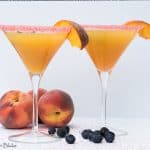 Print
Peachy Keen Cocktail
A light and a refreshing summer cocktail.  Serve martini style or over ice. Delicious sipped anyway you like it!  
Ingredients
1

ounce

vodka

1/2

ounce

blueberry flavored vodka

1/2

ounce

peach schnapps

1/4

cup

peach nectar
Instructions
Fill a cocktail shaker with ice and add the vodkas, schnapps, and nectar. Shake to combine well. 

Serve over ice or straight up in a martini glass.