[social_warfare]
Happy New Year everyone. Back to the grind of everyday life. I have been spending the past week working on the mundane backend stuff to make my website work better. I hope you notice a difference, I have noticed an improvement on my end, so I hope you do too!
Truth be told, I'm obsessed with Chicken Cordon Bleu. Earlier this year, I rolled it up into a "fatty" which was delicious. This time, I stepped it up and made the ultimate comfort food, pot pie. I'm not sure that if there is a man, woman or child who doesn't love a warm and comforting pot pie.
These pot pies are packed with lots of (store-bought) rotisserie chicken, a 1/4 pound slab of ham from the deli, mushrooms, veggies, a creamy white wine sauce, lots of cheese and the big cheat, refrigerated pie crust. I tried to make it simple and delicious. Perfect for a weeknight supper.
This recipe makes enough for one large pot pie or 4 mini pies. I decided to make my Chicken Cordon Bleu pot pies in these cute mini aluminum disposable pans mainly because I can't eat a whole pot pie over a week. Making mini versions allows me to freeze them and make when I am craving something warm and hearty. Yes! This freezes beautifully and can be cooked from it's a frozen state.
As an added bonus, while these aren't low on calories, they are better for you than the store-bought brands because you know exactly how it's made!
Enjoy this recipe. It's perfect for a chilly night this winter! Follow along with the pictures. I walk you through on how to make the mini pot pies.
Until next week! 🙂
Are you looking for other warm and comforting "Frenchy" type foods, how about trying my French Chicken Onion Soup or my Easy French Cassoulet?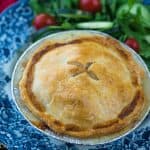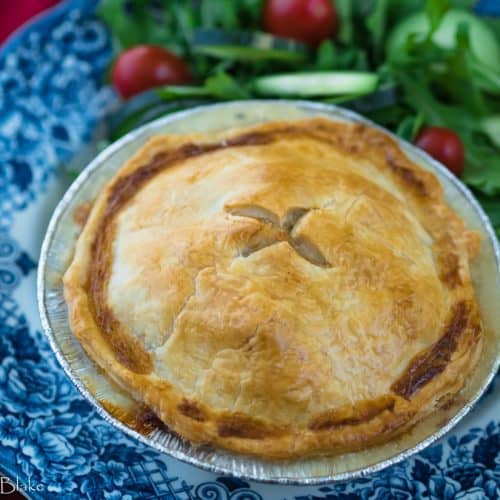 Print
Chicken Cordon Bleu Pot Pie
Chicken Cordon Bleu Pot Pie is a super flavorful pot pie that's packed full of chicken, ham, and veggies with a lovely white wine cream sauce.
Ingredients
2

tablespoons

butter

1

cup

chopped onions

1

tablespoon

minced garlic

8

ounces

sliced mushrooms

2

tablespoons

flour

1/2

cup

dry white wine

1 1/2

cups

whole milk

2

cups

chopped rotisserie chicken or turkey

1

cup

chopped ham

2

teaspoons

fresh thyme leaves

1/2

teaspoon

salt

1/2

teaspoon

pepper

1 1/2

cups

frozen pea/carrot mixture

1

cup

shredded Swiss or Gruyere cheese

1/2

cup

grated Parmesan cheese

2

tablespoons

chopped fresh parsley (optional)

2

refrigerated pie crusts

1

egg (for egg wash)
Instructions
Remove pie shells from the refrigerator and bring to room temperature while the filling is being made. 

In a large saute pan over medium-low heat melt the butter. Add the onions, garlic and, mushrooms and cook until the vegetables are softened. About 5-8 minutes. 

Sprinkle the flour over the vegetable and mix well. Pour in the wine and milk and cook until mixture begins to thicken. 

Once thickened, add the chicken, ham, thyme, salt and, pepper. Mix to combine well and remove from heat. Stir in the frozen vegetables, cheeses and parsley. Set aside to cool. 

Unroll the pie crust and lightly roll out with a rolling pin. If making mini pies, trace the pie tin with a paring knife to form a circle. You will have enough from two crusts to make 8 circles. If making one large pie, place one round into dish and spoon in the cordon bleu mixture. Top with the other shell and crimp the edges. If making minis do the same 4 times and add about 1 1/4 of filling into each tin. Cover and crimp with the remaining crusts. 

Crack the egg and 1 tablespoon of water into a dish. Mix well with a fork. Brush the egg wash over the pie or pies. 

Bake in a 400-degree oven for 45-50 minutes or until the crust becomes a lovely golden brown. Let sit for 10 minutes before serving.  
Notes
If you want to freeze these pot pies, go for it! To cook them, preheat the oven to 400 degrees. Remove the pot pie from the freezer and brush on an egg wash. Place in the oven and cook for 50 minutes to 1 hour. Let sit for 10 minutes before serving.  
****I included an Amazon link for the pie pans. Amazon is nice enough to pay a very small commission if you purchase from this link