Hi there! I apologize in advance for this post. From what I hear and see in the social network world, it's damn cold every place but Colorado. I'm sorry Y'all who are experiencing those kinds of temperatures, so be safe and stay inside I guess. I feel really terrible for all the animals. I know my boys wouldn't go outside in temps like that. That crazy polar blast, I hope it moves out quickly!
If it doesn't move out quickly and it's too cold to grill out this Super Bowl weekend then this recipe for Colorado Fried Onion-Mushroom Burgers may be your saving grace! This weeks craving was thanks to butter fried onions. I was seriously craving onions and in my book what goes better with fried onions than mushrooms. I was onto something special here.
I decided to amp up an Oklahoma Fried Onion Burger to a whole new level and make it Colorado proud! Instead of sauteing mushrooms and onions together, I decided to make the ground beef patties with sauteed mushrooms. The butter sauteed mushrooms combined with a bit of garlic and Worcestershire take these burgers to a whole new level!
I kept with the Oklahoma fried onion burger tradition in the cooking technique because it's just brilliant and there is no need messing with brilliance! These burgers are so good, juicy and incredibly flavorful that you won't need any condiments! Just some dill pickle chips. They are perfect with these perfect cheeseburger bombs!
I hope you give these burgers a try, they are to die for! If mushrooms and onions aren't your things, check this out! I have a bunch of burger recipes on my site! Here is an easy go-to list for you!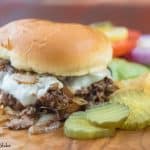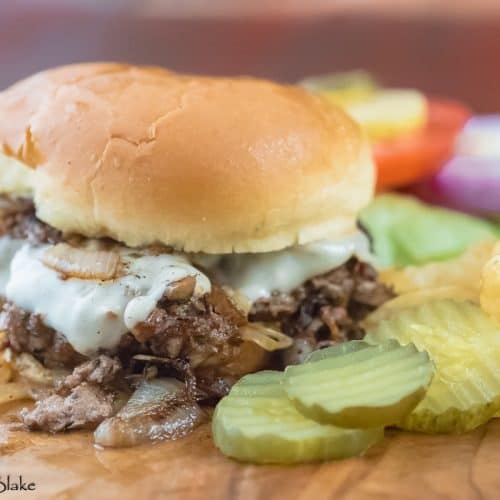 Print
Colorado Fried Onion-Mushroom Burgers
In Oklahoma, they have their own fried onion burger. We have Colorado Fried Onion-Mushroom Burgers in our neck of the woods! My mouth is watering! I'll tell ya! There is hardly anything better than fried onions and mushrooms on top of a juicy burger and a hot and steamy roll! 
Ingredients
1

stick

butter, divided

8

ounces

finely chopped mushrooms

4

cups

thinly sliced onions

about 2 large onions

1

pound

80/20 ground beef

1

tablespoon

Worcestershire sauce

1

teaspoon

granulated garlic

salt and pepper

4-8

slices

swiss cheese

or your favorite cheese

4

large

hamburger buns
Instructions
Slice the onions in half and thinly slice. Place in a bowl and mix in 1 teaspoon of salt. Let sit for 15-20 minutes. The onions will begin to release liquid. Place on a tea towel and squeeze out as much liquid as possible. Set Aside. 

While the onions are doing their thing, let's make the mushrooms! Finely chop the mushrooms and place in a medium-low preheated (cast iron skillet, if available). Melt the butter and add the mushrooms. Cook for about 5 minutes until the mushrooms begin to brown. Season with a pinch of salt and pepper and remove from the pan and set aside to cool. 

In the same pan, melt another 2 tablespoons of butter over medium-low heat. Add the onions and cook until they become translucent and begin to brown. Remove from pan and set aside. 

When the mushrooms have cooled and the onions are cooking, let's make the hamburgers. In a large bowl combine the hamburger, mushrooms, garlic, Worcestershire, 1/4 teaspoon salt and 1/4 teaspoon pepper. Combine well. Form into 4 equal size balls and set aside. 

In the same pan that the onions cooked in melt another 2 tablespoons of butter over medium heat. Depending on the size of your skillet(I had to do 2 batches) place the hamburger ball. Smash down with a heavy spatula (I used the one from my grill). So it's about 1/2 inch thick. Place about 1/2 cup of onions on top of each burger and cook for 3 minutes. Flip the burger over so that the onions are on the bottom. Place a piece of cheese or two on each burger. When the cheese begins to melt, place the buns on top of the cheese like this. Cover with a lid and steam the buns for one minute or so. 

Carefully remove the bottom bun, and slide one burger with onions on top of the burger bun. Top with the other bun and serve!