Hi all! I'm back from a lot of traveling. A lot… Trips to Chicago, Las Vegas and then 3 weeks on another road trip. The trip took us to the far reaches of the Pacific Northwest and back. The road trip was an amazing adventure which I will be posting about over the next few weeks, so stay tuned!
Now that I am getting back in the swing of things and settling into normalcy. I decided to turn the TV on after a 7-week hiatus.  I got into bed and scrolled through my Amazon Prime account with full intentions of watching a movie that was recommended to me. Well, that didn't happen as this documentary, caught my attention. The documentary was called Fed Up (it's a free download if you have a Prime account). I watched it and is what prompted me to write this recipe this week.
Fed Up the Movie
Fed Up the movie is about the obesity epidemic in America and how it relates to the over-consumption of sugar in our diets. It also discusses the role that our government plays in perpetuating this crisis. The movie is not only heart wrenching, but it's also completely enlightening. Truth be told, I don't trust our government and have always been put off of the personal agendas of our politicians.  This movie just cements my feelings even more.
Until watching this movie, I had no idea that the "sugar lobby" has such a huge influence on each of our lives.  The sugar lobby is so huge in fact, that if you read the back of a nutrition label, the percentage of the daily allowance for sugar is omitted. I checked it and it's true. If people are only supposed to consume 13% of their daily calories from sugar (based on a 2000 calorie a day diet), then why on earth is that not listed on the label?
The sugar lobby and the spineless politicians who are afraid of doing the right thing masterminded this.   Our government has made it easy for Americans to be addicted to sugar and the long term consequences will be paramount. The health care system has no idea what is coming and it's going to be bad for everyone.
I don't want to beat a dead horse, but this movie is totally worth a watch so that you can make your own decisions. I think it's important and hope that you take the time to see it.
Taking Sugar Out
After watching the movie, I realized that my sugar consumption is actually is in check with the recommended daily allowances. Over the years, I have personally known the effects of sugar, especially on my body. I sure know it if I eat too much sugar as I feel like crap. I made the decision about 15 years ago to try and make as much as I can and limit processed foods to a minimum.
This is my lifestyle and it works for me. If you scroll through the recipes on my blog, you will find that all of my recipes are made from scratch. I don't use over-processed foods in any of my recipes (except maybe ketchup in a BBQ sauce) or some added honey here and there. Yes, there are desserts and cookies on this site. There needs to be as it's important to have balance in your diet. Life wouldn't be fun without an occasional cookie no and then!
Here are some examples of some healthy things that you can make from scratch on my site.
Chicken Shawarma
Besides being something that's fun to say, Chicken Shawarma is a delicious Mediterranean dish that is super easy to put together! Typically, shawarma's are made on a rotisserie and the word actually means "to turn".  In all actuality though, most of us don't have a rotisserie, so this version is grilled. You do turn the meat over when grilling, right? Haha, it works!
Chicken Shawarma gets its magical flavor from a variety of warm spices including, cumin, cardamon, paprika, and coriander. It also is loaded with garlic, lemon and olive oil. All the makings for a healthy and delicious chicken dish.
You won't miss the sugar. In fact, your body will crave more fresh veggies with this meal. The flavors are so incredible that you will want to keep adding more veggies to the plate!
How to Serve Grilled Chicken Shawarma
You can serve chicken shawarma in two ways. Either you can make a wrap with flatbread (shown) or stuffed into a pita, or you can make a big salad. Veggies that are served with shawarma are shredded lettuce, tomatoes, cucumbers, and red onions. Shawarma is always served with a tangy garlic sauce and hummus if you like. I served my meal with just some homemade chickpeas on the side for a healthy alternative to chips or french fries.
Enjoy!
PS. This post contains links to Amazon. I am an affiliate for Amazon and if you purchase from the link, I make a small amount of money from Amazon. This does not affect your purchasing or what you pay.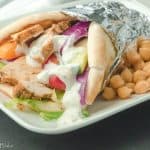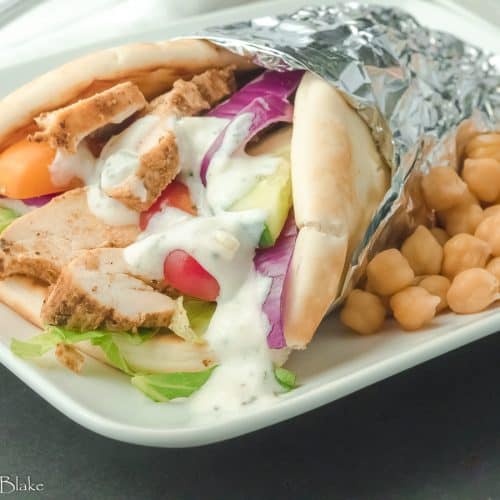 Print
Grilled Chicken Shawarma
Ingredients
For the Shawarma Marinade
1/2

cup

olive oil

1

lemon, juiced

1

tablespoon

minced garlic

1

teaspoon

salt

1

teaspoon

cumin

1

teaspoon

coriander

1

teaspoon

paprika, not smoked

1/2

teaspoon

cardamon
For the Yogurt Sauce
1

cup

greek yogurt

1

teaspoon

minced garlic

2

tablespoons

minced fresh mint

1/2

lemon, juiced

1/4

teaspoon

salt

1/4

teaspoon

pepper
Other Ingredients
1 1/2-2

pounds

either skinless/boneless chicken breasts or thighs

Pita or flatbread for serving

shredded lettuce

sliced cucumbers

chopped tomatoes

thinly sliced red onions
Instructions
To make the Chicken Marinade
In a gallon sized zippy bag, add the olive oil, lemon juice, garlic, salt, cumin, coriander, paprika, cardamom, and chicken. Mix the bag around to make sure that the chicken is covered evenly. Close the bag and refrigerate for 2 hours up to overnight.
To make the Yogurt Sauce
In a medium sized bowl, whisk together the yogurt, garlic, lemon juice, mint and salt. Cover and set aside until ready to serve.
To grill the chicken and serve
Heat up your grill to a high temperature. I ran my Traeger at 475 degrees. Remove the chicken from the marinade and place on the hot grill. Cook the chicken until it reaches an internal temperature of 165 degrees. I cooked the chicken for 5 minutes per side for a total of 10 minutes. Let chicken rest for 10 minutes before slicing.

When you are ready to serve, place out flatbread or the pita and stuff with the chicken, lettuce, tomatoes, cucumbers, and onions. Top with a dollop of the yogurt sauce.

Alternatively, place all the ingredients on a plate and serve as a salad.