Greetings from Australia! It's a bit surreal that I am here and not at home thinking about what I can make for Thanksgiving dinner next week. I am certain that this is the first year in my whole life that I won't be making or let alone eating a Thanksgiving meal! It's all good though, I am experiencing a whole lot of new things (as I sit here watching the biggest spider that I have ever seen in my life crawl up a wall)! Haha!
Anyhoo, one of the things that I love about traveling is experiencing what other people eat. Here, down under, they really do eat a lot of Promite or Vegemite, biscuits (cookies), pawpaw (papaya), rough skinned pineapples (We can't get them in the US. They are little and very sweet),  pumpkin and potatoes. The list goes on and I will share more in future posts, but for now, know that I am enjoying every bit of the food here!
What is a quick bread?
Quick breads are my go-to bread of choice and usually what I make when making breads. Quick Breads are breads that are made without using yeast but rather other leavening agents like baking soda or baking powder.  They can be either sweet or savory and generally a bit more "cake like" than airy like a yeast bread. I love them because as the name states…. they come together quick!
When in Australia, eat what they do!
Since I am in Australia at the moment, I decided to make up this loaf of bread with an ingredient that they like to use here. Dates…. it's not something that we eat a lot of in America, but something that we should. They are sweet and a bit chewy and have a distinctive nutty flavor. In my book, they are delicious and they pair really well with apples.
This Apple Date Nut Bread is great in the morning warmed in the toaster and slathered with a pat of butter served room temperature in afternoon with a cup of tea.
Just make sure that if you are down under, quick breads are not breads, they are cakes… 
Warm and tasty Apple Date Nut Bread fresh out of the oven! I love this bread on a cool autumn day!
Check out these other Autumn inspired treats!
Are looking for other Autumn inspired treats? Look no further!  Click the links for other great recipe ideas!
Pumpkin Spice Oatmeal Chocolate Chip Cookies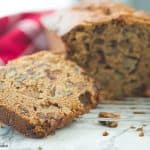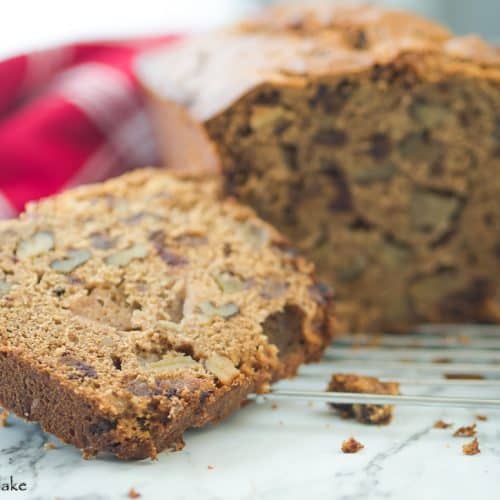 Print
Apple Date Nut Bread
This Apple Date Nut Bread is one of my favorite quick breads in the fall. It's packed with all the warm flavors of autumn and apples that we all love.


Ingredients
4

tablespoons

butter, melted

1

cup

pitted and chopped dates

1/4

cup

sugar

1/4

cup

dark brown sugar

3/4

cup

boiling water

2

teaspoons

vanilla extract

2

eggs, beaten

2

teaspoons

baking powder

1/2

teaspoon

salt

1

teaspoon

cinnamon

2

cups

all-purpose flour

1

cup

chopped fresh apple

Use whatever you like to eat. I generally use 1 medium sized apple.

3/4

cup

chopped walnuts
Instructions
Place butter, sugars and dates to a metal mixing bowl. Pour the hot water over the mixture, and stir until combined. Let stand 10 minutes to enable the dates to soften.

Whisk in the beaten egg, baking powder, salt, vanilla and cinnamon until well combined. Stir in the flour in small batches until incorporated. Fold in the apples and the walnuts.

Grease a bread pan with cooking spray and pour in the bread mixture. Bake in a 350 degree oven for 50-60 minutes or until a knife inserted comes out clean.

When the bread is done, remove it from the oven and cool it completely. Wrap the bread in plastic wrap and let sit for 24 hours before serving.