Ugh! Sorry that I haven't posted in a couple of weeks but life happens, right? The real estate business still hasn't slowed down in Denver and I ain't complaining! It's crazy. Six offers on a listing that I put on the market Monday morning. We went under contract above the asking price. I always feel bad for the folks that didn't win the bidding war! Good for my client though, a little peace of mind knowing that her home is fabulous!
Besides da biz… I again need to pinch myself and realize how lucky I am in my life for the amazing opportunities and experiences that happen to me. This week was no exception! I was asked to join my friends Johnny and Jenny in Albuquerque for the annual International Balloon Fiesta. Johnny has been flying his balloon in this event for years and this was the second year in a row that I got to experience something so incredible as flying with 550 balloons in a mass ascension! So hard to describe the feeling but the pictures below will give you a pretty good idea! This was an extraordinary year for Fiesta as the weather was absolutely perfect! This hardly ever happens and the balloons flew for all nine days! That's nine days of leaving the house at 5:30 am, setting up the balloon, flying, landing, having the chase crew find you, taking down the balloon, loading up, popping your first beer at 9:00 am, tailgating, eating fair food (it's really good at Fiesta, tons of vendors), getting back to the house for a nap, going to dinner, coming home, cocktails and good conversations with friends around the fire pit, going to bed and doing it all over again! Johnny and Jenny are troopers for getting through the week all while being the most generous and gracious hosts that I have ever known! Just awesome!
One night at Fiesta, we had a party at the "House of Hot Air", aka,  John and Jen's house… Lots of other balloonists and their crews came over to swap stories and enjoy the comradely of this tight nit community. My contribution to the party was a variation of these Pulled Pork & Bacon Jalapeno's. I actually made my first version with sausage (delish). It turned out yummy but I had another idea on my mind! I have always wanted to stop by Obie's, this BBQ joint in Colorado City, CO. Colorado City is an exit off I-25 in between Pueblo and Walsenburg. Seriously an exit off a major highway with a gas station and a BBQ restaurant! I have driven by it 100 times but this week I stopped and got some pulled pork to take home! I had this feeling that Pulled Pork & Bacon Jalapenos would be delicious and I knew that football would be on all weekend so this is my contribution to this afternoon's football-watching festivities! Yep. Spicy, smokey, sweet bacony goodness. It hits all the senses! Give them a try. You can thank me later!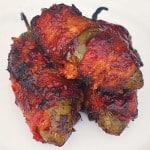 Print
Pulled Pork and Bacon Jalapenos
Jalapeno's stuffed with pulled pork and then wrapped in bacon and basted with a sweet BBQ sauce. I really don't need to discuss, Pulled Pork & Bacon Jalapenos are just damn good!
Ingredients
Instructions
Cut a slit out of each pepper, run under water and clean out seeds and the membranes. Set aside.

In a medium-sized saute pan, coat the bottom with about 2 tbs of olive oil and heat up. Add the onions and garlic and saute for about 5 minutes until they become softened. Add the pork, salt, pepper and BBQ sauce. Mix together well. Remove from heat and set aside. (You only need it on the stove for a couple of minutes just to heat through).

Depending on the size of your jalapeno's (or other pepper of your choice), stuff the pepper with the pulled pork (I used a couple of tablespoons per pepper). Wrap each pepper with a slice of bacon and secure with a tooth pick.

Heat grill to a medium-high heat (350-375 degrees). Place the peppers on the grill and cook until the bacon is cooked through basting the peppers with the additional BBQ sauce when you flip your peppers. Make sure the peppers are well coated with the sauce. I cooked mine for about 45 minutes.
Notes
This is a great recipe when you have left over pulled pork. If you don't have leftovers you can use store bought (omit the 1/2 cup sauce for the filling as most store bought varieties come with sauce) or head over to a BBQ joint and pick up some pulled pork to make the recipe.
My jalapeno's were huge. You will need to buy more peppers if your's are smaller than what I had. If they are smaller, cut your bacon in half to wrap around the peppers.
If you aren't a fan of the heat from a jalapeno, try a green chile instead.
I just cut some slits in the peppers and then ran them under water to get the seeds and the membranes out! These gems are enormous!