Cheesy Potato Bites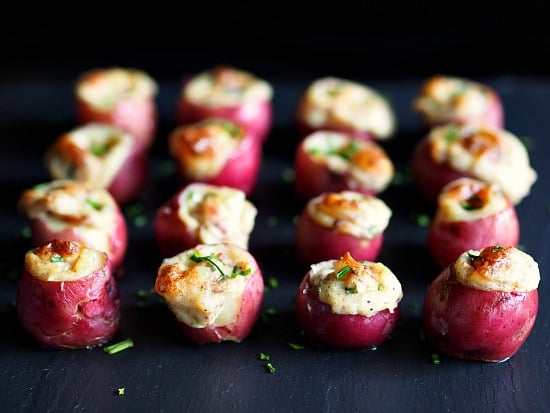 1½ pounds mini potatoes ( I have made with both yellow and red ones)
2 tbs butter
1 clove garlic minced
2 tbs sour cream
2 tbs milk
½ tsp salt
½ tsp pepper
¾ cup shredded cheese ( I used Monterrey Jack)
2 slices of cooked bacon crumbled/chopped small
2 tbs chopped fresh chives (cut up some extra for garnish)
Olive oil
Fill a sauce pan large enough to hold potatoes with water and boil until fork tender. 12-15 minutes. Drain and cool.
Pre-heat oven to 375 degrees. Prepare a small baking dish (I used an 8"x 8" pan)
To Prepare Potatoes
Slice off the top of the potatoes with a paring knife and scoop out some of the inside of the potato with a small melon baller or a teaspoon measuring device. Leaving enough room to keep the integrity of the potato. (See picture below). Once they are scooped out, slice a tiny part of the bottom of the potato so that it will stand straight in the pan. Reserve insides of potatoes and the tops to make filling.
To Prepare The Filling
In a sauce pan, melt butter and then add garlic cooking for one minute until soft.
Add reserved potatoes, sour cream, milk, cheese and salt and pepper and cook until the potatoes are soft enough to mash and the cheese has melted.
Remove from heat and with an immersion blender, blend mixture until smooth. You can also transfer to a regular blender or food processor and blend until smooth.
Stir in bacon and chives.
To Fill Potatoes
Place prepared potatoes in baking dish.
Transfer potato mixture to a large zip lock bag (see picture) and cut a small end off the bag. Fill each potato with the filling. (I had some extra filling).
Drizzle olive oil on top of potatoes and place in pre-heated oven for 15 - 20 minutes or until tops of the potatoes have browned.
Serve hot and enjoy!