Pho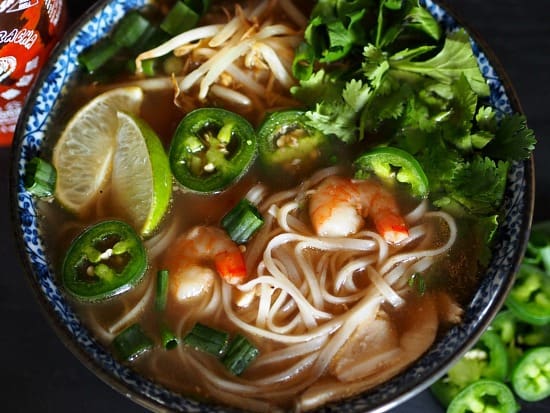 8 cups beef broth
6 star anise
2 whole cinnomon sticks
1 teaspoon ground coriander
1 teaspoon whole cloves
2 teaspoons fish sauce
1 tablespoon tamari (or soy sauce)
2 teaspoons sesame oil
4 cloves of garlic smashed and left whole
1 5 inch piece of fresh ginger, pealed and left whole
½ teasppon salt
¾ pound of either top sirloin or chicken
1 package rice noodles (cooked to package directions)
Mung bean sprouts
chopped cilantro
sliced jalapeno
sliced green onions
sliced lime wedges
Siriacha
In a large soup pot, add broth, star anise, garlic, cinnamon, ginger, coriander, cloves, fish sauce, sesame sauce, soy sauce and salt. Simmer for 30 minutes or until the soup is very flavorful. Remove, star anise, ginger, cinnamon sticks, cloves and garlic from broth.
While the broth is cooking place the beef or chicken in the freezer for 15-20 minutes. Slice the meat as thin as possible. If using chicken, saute it in 2 tablespoons of vegetable oil for about 3 minutes. The hot broth will finish the cooking process.
To serve, in a large bowl, place cooked noodles and the meat and cover with hot broth. Top with above ingredients to your liking. Serve with Siriacha sauce.