Grilled Halibut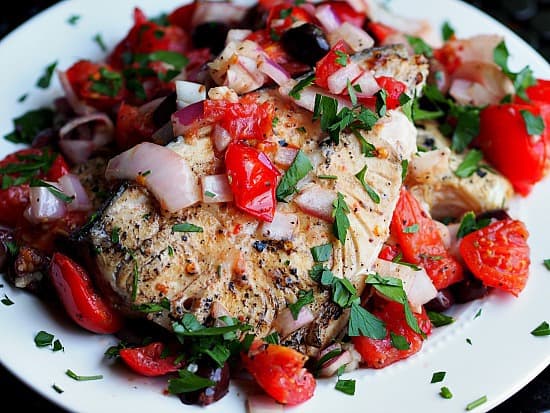 1½ pounds of Halibut steaks (or another firm white fish)
2 cups tomatoes chopped
½ large purple onion chopped
3 large cloves of garlic minced
½ cup chopped Kalamatta olives
3 tbs capers
1 lemon juiced
1 tbs Worcestershire sauce
¾ oil (I used a high heat Mediterranean blend oil)
¾ cup white wine (I used Chardonnay)
1 tsp salt
2 tsp pepper
1 tsp red chili flake
In a large zip lock bag add the lemon juice, Worcestershire sauce, oil, wine, salt, pepper and chili flake. Mix up well.
Add the fish, tomatoes, onion, garlic, olives and capers. Seal up bag and let marinate for at least 2 hours but no more than 3 hours.
Heat up your grill to a high heat.
Remove fish from bag and grill fish until cooked through. (I cooked my fish for 5 minutes per side).
Place the grill pan on the grill. Remove tomato mixture using a slotted spoon to strain off any excess marinade. Cook the veges for a few minutes until heated through.
Serve the fish with the vegetables.
Enjoy!