Beef Brisket Street Tacos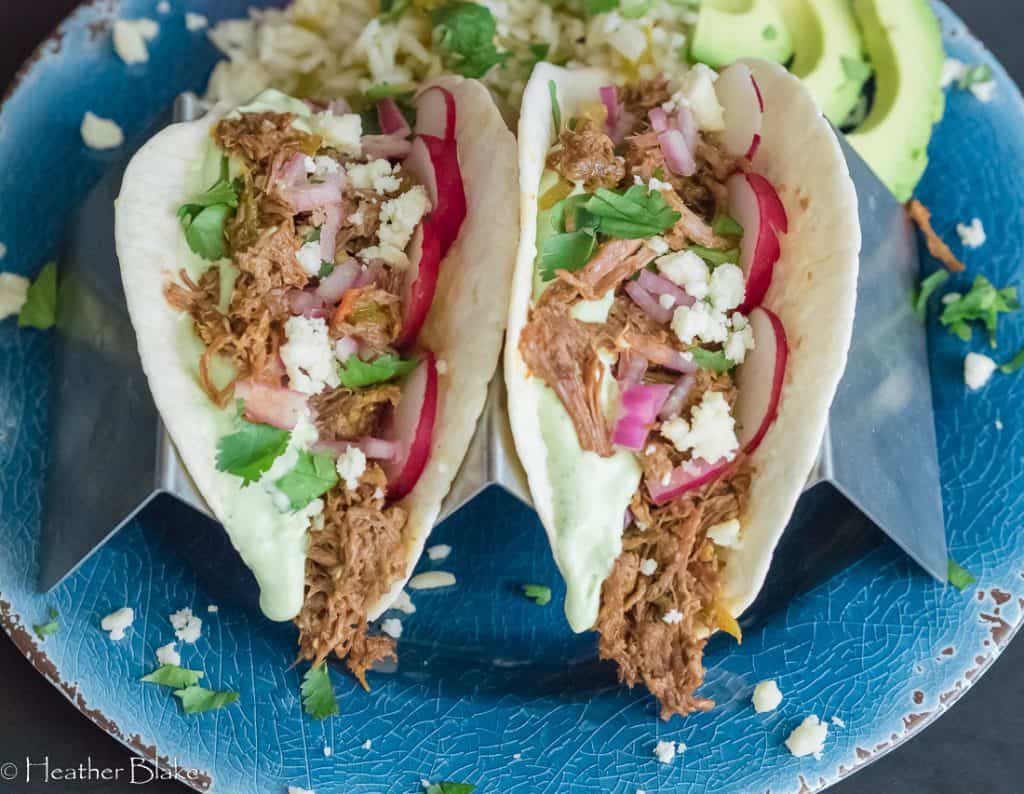 Recipe type:
Small Plates
olive oil
2 cups leftover brisket or pot roast (click on the link in the post for the brisket recipe)
½ cup chopped green chilies
1 tsp garlic powder
1 tsp ground cumin
⅛ tsp Cayenne pepper
1 tsp Mexican oregano
1 tsp salt
1 tsp pepper
Pickled Onions
1 large purple onion thinly sliced
2 cups apple cider vinegar
1 cup of water
3 tbs kosher salt
4 tbs sugar
Avocado Cream
1 avocado
1 cup Mexican crema table cream (or sour cream)
1 clove garlic
1 tsp ground cumin
1 tsp salt
1 tsp pepper
⅛ tsp Cheyenne pepper
Extras
Corn tortillas
Chopped cilantro
Cojita cheese or Monterrey Jack
Heat a liberal amount of olive oil in a medium size fry pan.
Add leftover brisket or pot roast, green chilies, garlic powder, cumin, Cheyenne pepper, oregano, salt, and pepper. Mix well.
Heat through until the meat mixture becomes browned.
For the Pickled Onions
Thinly slice the onions (I used a mandolin) and place in a large mason jar or any glass container.
In a saucepan heat apple cider vinegar, water, salt, and sugar until dissolved.
Pour cider mixture over the onions and cover.
Let sit for at least an hour.
Can be stored in the refrigerator for up to two weeks.
For the avocado cream sauce
In a food processor or blender add the avocado, crema, garlic clove, cumin, salt, pepper, and Cayenne.
Process until combined and smooth.
Assembling the tacos
Warm the corn tortillas in the microwave for 30 seconds.
Place a small amount of the meat mixture in the tortilla. Top with onions, cheese, cilantro, and the avocado cream sauce.
Serve and Enjoy!
If you don't have any left over brisket or pot roast. Check the grocery store. My store sells prepacked versions. The heat and eat kind that you can find in the meat section of the store. This would work just as well!
Recipe by
Rocky Mountain Cooking
at https://rockymountaincooking.com/2014/11/beef-brisket-street-tacos/