Grand Marnier Stuffing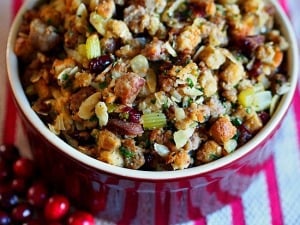 1 pound sage breakfast sausage
1 stick butter
2 cups diced onion
2 cups diced celery
2 tsp garlic cloves minced
1 tbs poultry seasoning
2 tsp salt
2 tsp ground pepper
Zest of one orange
½ cup diced dried apricots
½ cup dried cranberries
¾ cup Grand Marnier
1 cup sliced or slivered almonds (optional)
1 pound bag of seasoned cubed stuffing
2 cups warmed chicken broth (preferably homemade)
½ cup minced fresh parsley
Brown sausage in a large saute pan. When sausage is cooked through remove from heat and drain on paper towels.
Return pan to the heat and melt the butter. Add the onions, celery, garlic, poultry seasoning, salt, pepper and orange zest. Cook for about 10 minutes until the onions and celery are translucent.
Meanwhile in a small saucepan. Add the Grand Marnier, apricots and the dried cranberries and simmer over low heat.
In another sauce pan warm the chicken broth.
To the large sauce pan, add back the sausage, almonds, parsley and the stuffing mix. Combine well and then add the Grand Marnier mixture, chicken broth and parsley.
Adjust seasoning if needed.
Transfer mixture to a baking dish and cover with tin foil.
Bake in a 350 degree oven for 45 minutes or until heated through.