Cherry Pepper "Da Bomb" Vinaigrette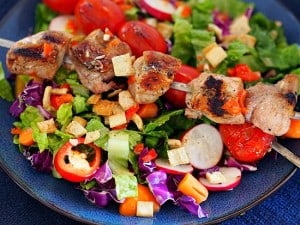 Recipe type:
Salad Dressing/Marinade
½ cup good Olive Oil
¼ cup apple cider vinegar
6-8 cherry peppers from the deli, chopped fine
1 large clove garlic, minced
2 tbs mustard (I use Dijon or a course grain)
2-3 tbs honey
¼ tsp salt
½ tsp pepper
In a bowl whisk together the olive oil, vinegar, peppers, garlic, honey, mustard, salt and pepper until well combined.
Use as a salad dressing or as a marinade.
I like my salad dressings "loose", meaning not "thick" add more oil if you like that sort of dressing.

I always double or triple this recipe. Half for marinating, half for my salads.

Make the salad any way that you like it!

I grill just about everything. Today it was pork kabobs and I grilled cherry tomatoes too!

I use 1½ half pounds of meat per one recipe of the marinade. I marinate for 8 hours to over night for pork, chicken or beef. 2-4 Hours max for fish.
Recipe by
Rocky Mountain Cooking
at https://rockymountaincooking.com/2015/05/cherry-pepper-da-bomb-vinaigrette/