Ginger and Lime Crusted Salmon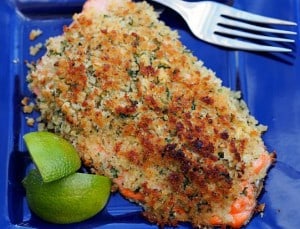 1 pound salmon fillets
1 cup Panko bread crumbs
2 tbs fresh parsley, minced
1 tbs garlic, minced
1 tbs grated fresh ginger
Zest of one lime
½ lime juiced
1 tsp salt
½ tsp pepper
6 tbs butter, melted
olive oil
In a medium sized bowl add the Panko, parsley, garlic, ginger, lime zest and juice, salt, pepper and butter. Combine well.
Place salmon on parchment line baking sheet (to prevent from sticking). Brush tops of fillets with olive oil. Top each fillet with bread crumb topping. Pressing down gently so that it adheres to the fish.
Bake fish in a 400 degree preheated oven for 10 minutes. If the topping is not browned completely, finish off in the broiler until evenly browned.
Rule of thumb for baking fish. It's 10 minutes of baking time for every inch of thickness. My fillets were approximately 1- 1/12 inch thick. Adjust baking time accordingly.
Recipe by
Rocky Mountain Cooking
at https://rockymountaincooking.com/2015/09/ginger-and-lime-crusted-salmon/