Pulled Pork & Bacon Jalapenos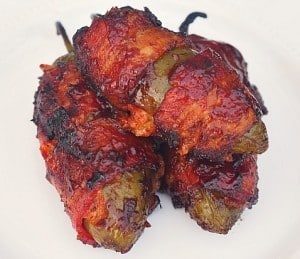 12-16 large jalapeno peppers
olive oil
1 cup onion, finely diced
2 tbs garlic, minced
2 cups pulled pork, chopped
½ tsp salt
½ tsp pepper
½ cup sweet BBQ sauce (I used Sweet Baby Rays)
12-16 slices of thick cut bacon
Additional BBQ sauce for basting.
tooth picks
Cut a slit out of each pepper, run under water and clean out seeds and the membranes. Set aside.
In a medium sized saute pan, coat the bottom with about 2 tbs of olive oil and heat up. Add the onions and garlic and saute for about 5 minutes until they become softened. Add the pork, salt, pepper and BBQ sauce. Mix together well. Remove from heat and set aside. (You only need it on the stove for a couple of minutes just to heat through).
Depending on the size of your jalapeno's (or other pepper of your choice), stuff the pepper with the pulled pork (I used a couple of tablespoons per pepper). Wrap each pepper with a slice of bacon and secure with a tooth pick.
Heat grill to a medium high heat (350-375 degrees). Place the peppers on the grill and cook until the bacon is cooked through basting the peppers with the additional BBQ sauce when you flip your peppers. Make sure the peppers are well coated with the sauce. I cooked mine for about 45 minutes.
This is a great recipe when you have left over pulled pork. If you don't have leftovers you can use store bought (omit the ½ cup sauce for the filling as most store bought varieties come with sauce) or head over to a BBQ joint and pick up some pulled pork to make the recipe.

My jalapeno's were huge. You will need to buy more peppers if your's are smaller than what I had. If they are smaller, cut your bacon in half to wrap around the peppers.

If you aren't a fan of the heat from a jalapeno, try a green chile instead.
Recipe by
Rocky Mountain Cooking
at https://rockymountaincooking.com/2015/10/pulled-pork-bacon-jalapenos/