Southwestern Turkey Croquettes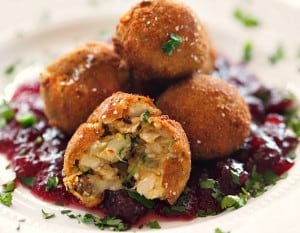 Recipe type:
Main Course or Small Plate
¼ cup onion, grated
1 jalapeno, minced
1 tbs garlic, minced
2 tbs butter
1 tsp salt
1 tsp pepper
1 tsp chili powder (or more)
1½ tsp cumin
2 cups mashed potatoes
1 cup turkey, chopped
¼ cup cilantro
1½ cups shredded cheese (I used Monterrey Jack)
2 eggs
1½ cups fine bread crumbs
vegetable oil for frying
cranberry sauce for serving
Melt the butter in a saute pan. Add the onion, garlic, jalapeno, salt, pepper, cumin and chili powder. Cook until the vegetables become soft.
In a large bowl, combine the mashed potatoes, turkey, cheese and vegetable mixture.
Make golf ball size croquettes (or larger if you wish) and place on a cookie sheet.
Whisk the eggs together with about two tablespoons of water.
In another bowl add the bread crumbs.
Roll each croquette in the egg wash and then roll in the bread crumbs until evenly coated.
In a medium sized saute pan, add about three inches of vegetable oil and heat to around 325 degrees.
In small batches, fry the croquettes until golden brown on all sides. Transfer to paper towels and sprinkle with salt.
Serve immediately with cranberry sauce.
Recipe by
Rocky Mountain Cooking
at https://rockymountaincooking.com/2015/11/southwestern-turkey-croquettes/