Chicken Marsala Soup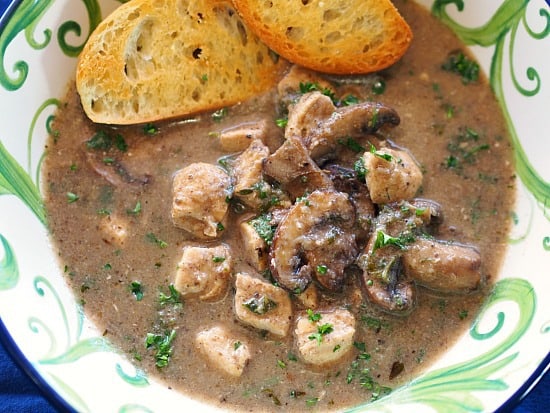 1 rotisserie chicken, shredded
1 pound mushrooms (I used crimini), sliced
1 medium onion, diced
3 cloves garlic, minced
4 tbs butter
2 tbs flour
1 cup Marsala wine
6 cups chicken broth
2 bay leaves
1 tbs thyme leaves
½ tsp salt
1 tsp pepper
½ cup Parmesan cheese
fresh parsley
In a large dutch oven (soup pot) melt 2 tbs of butter on medium heat and saute half of the mushrooms for 5-6 minutes or until they become soft but not too browned. Remove and set aside.
In the same pan, melt the other 2 tbs of butter and add the mushrooms, onion and garlic. Saute for 5-6 minutes or until the veges become soft. Add the flour to combine well and cook for another minute to cook out the flour taste.
Add ¾ cup of the Marsala wine, scrapping up any brown bits from the pan. Add the chicken broth. Cook for about 5 minutes.
Either transfer the soup to a blender (a little at a time, in small batches) and blend until smooth or use an immersion blender and blend in pot until smooth. If using a blender add back to pot.
Add the reserved mushrooms, the shredded chicken, bay leaves, salt, pepper and thyme. Simmer for a half an hour.
Add the Parmesan cheese, the other ¼ cup Marsala wine and a half cup or so of parsley. Adjust seasoning if needed.
Serve hot with more cheese and crusty bread.