Ribeye Steaks with Boursin Brandy Butter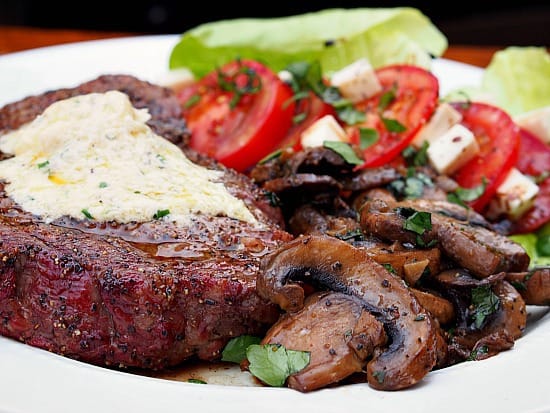 Recipe type:
Something for the grill
2 pounds of rib eye steaks (or whatever is your favorite steak)
olive oil
salt and pepper
1 stick of butter, softened
1 2.5 oz container of Garlic Herb Boursin cheese
2 tbs brandy
½ tsp pepper
1 tbs fresh chives, chopped fine
Prepare your steaks by coating with olive oil and season generously with salt and pepper on both sides. Set aside and bring up to room temperature.
To make the compound butter. In a medium sized bowl add the softened butter, boursin cheese, brandy, pepper and chives. I used a fork to combine all the ingredients. Store in the refrigerator until ready to serve.
Heat your grill up to a high heat. I set mine to 425 degrees. Place the steaks on the grill and cook for 5-7 minutes on one side and then flip the steaks and cook for another 5-7 minutes. Totally depends on how you like your steaks. 5 minutes for a medium rare, longer if you like them more done.
Remove from grill and let sit for 10 minutes before serving.
While the steaks are hot off the grill, top with a big dollop of the butter mixture so that it begins to melt.
Serve and devour!
Left over butter spread can be frozen for later! I love that!
Recipe by
Rocky Mountain Cooking
at https://rockymountaincooking.com/2016/06/ribeye-steaks-boursin-brandy-butter/