Limoncello Cream Berry Cake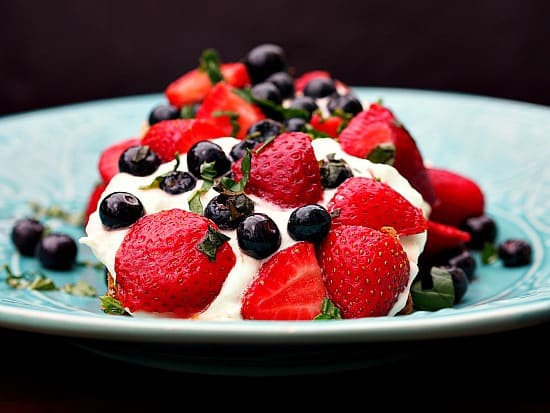 For the whipped cream
1 pint heavy whipping cream
¼ cup sugar
¼ Limoncello
zest from one lemon
For the berries
2 quarts strawberries, sliced
1 pint blueberries
½ cup sugar
½ cup limoncello
2 tbs fresh basil, chopped fine
zest from one lemon
1 store bought pound cake (I found it in the bakery section of my store), sliced
In a high sided metal bowl, put the cream, sugar, limoncello and lemon zest. With either a hand mixer or a stand mixer blend on high speed for 3-5 minutes until stiff peaks are formed. Cover and refrigerate until ready to use.
In another large bowl, add the strawberries, blueberries, sugar, limoncello, lemon zest and basil. Mix together well. Cover and refrigerate for at least one hour. A nice syrup will develop.
When ready to assemble, place one slice of the store bought pound cake on a plate. Top with a large spoonful of the fruit with the syrup on the cake and large dollop of the whipped cream. Sprinkle some more chopped fresh basil and lemon zest.
I also made this recipe with puff pastry shells. Also delicious.

Bonus tip! I love limoncello in the summertime mixed with ice and sparkling water!
Recipe by
Rocky Mountain Cooking
at https://rockymountaincooking.com/2016/06/limoncello-cream-berry-cake/