Southwestern Chicken Salad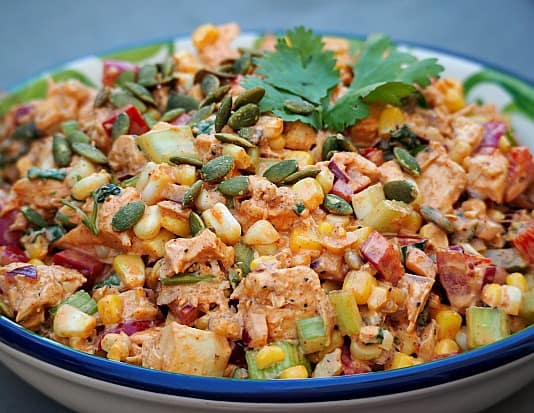 4 cups cooked chicken (I used about 2 rotisserie chickens)
1 red pepper, diced
2 cups corn (I used two ears of corn, cooked and kernels removed)
½ cup red onion, diced
2 cloves garlic, minced
1 cup celery, diced
½ cup cilantro, chopped
½ cup pumkin seeds (or substitute toasted almond slices)
1½ teaspoons cumin
1 teaspoon chili powder
1 teaspoon salt
1 teaspoon pepper
½ cup mayonnaise
½ cup Cholula hot sauce
In a large bowl, combine all the ingredients except for the pumpkin seeds (or almonds) and combine well.
Before serving stir in the pumpkin seeds or almonds. Top with fresh cilantro.
This recipe can be made the day before and stored in the refrigerator. Add the seeds or the nuts just before serving so that stay crunchy.
Recipe by
Rocky Mountain Cooking
at https://rockymountaincooking.com/2016/09/southwestern-chicken-salad/