Cantonese Grilled Pork Asian Salad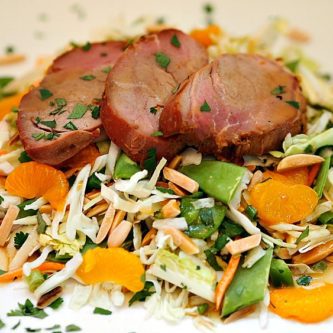 Recipe type:
Salad/ Main course
Marinade For The Pork
½ cup Tamari or soy sauce
¼ cup Hoisin sauce
2 teaspoons sesame oil
4 teaspoons honey
1 teaspoon ground ginger
1 tablespoon garlic, minced
2 teaspoons orange zest
½ cup freshly squeezed orange juice
1 package Pork Tenderloins
For the Salad Dressing
2 teaspoons sesame oil
2 tablespoons rice wine vinegar
2 tablespoons Tamari or soy sauce
2 tablespoons honey
½ cup vegetable oil
1 teaspoon ground ginger
2 tablespoons orange juice
For the Salad
1 head of Napa cabbage sliced thin and chopped
1 6 ounce package snow peas sliced in half
1 bunch cilantro chopped
1 bunch green onions sliced thin (white and green parts)
1 11 ounce can Mandarin oranges, drained
½ cup toasted almond slices
In a large zip lock bag, add soy sauce, hoisin sauce, sesame oil, honey, ginger, garlic, orange rind and orange juice. Close bag and mix well. Add pork tenderloins and let marinate for at least 4 hours up to over night.
Heat up the grill to 375 degrees and place the tenderloins on the hot grates. Grill the tenderloins to an internal temperature of 145 degrees for medium rare up to 160 degrees for more well done. Remove from heat and let cool for 10 minutes before slicing.
In a large bowl, toss together the cabbage, snow peas, cilantro, green onions, oranges and almonds. Top with slices of pork tenderloin and dressing.
Substitute the Napa cabbage with 1 bag of cole slaw mix.
There will be leftover pork. Great for another meal during the week.
Recipe by
Rocky Mountain Cooking
at https://rockymountaincooking.com/2017/01/cantonese-grilled-pork-asian-salad-2/