Colorado Chicken Pizza with Cheesy White Sauce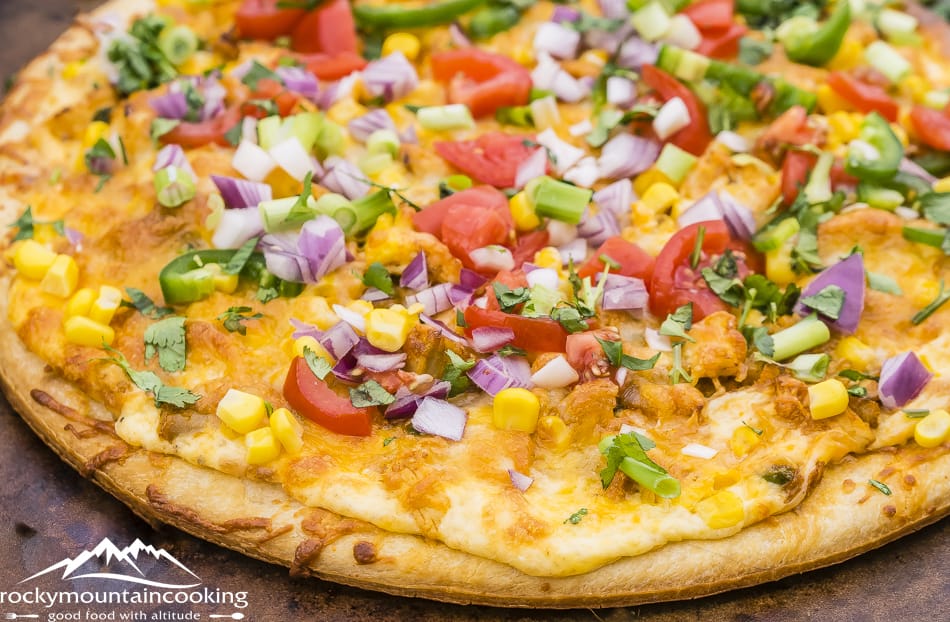 For the Cheese Sauce
½ cup Mexican Crema
¾ cup Mexican 4 cheese blend
½ teaspoon granulated garlic
1 pinch of salt and pepper
For the Chicken
olive oil
1 boneless chicken breast, diced small
½ cup yellow onions, diced
2 garlic cloves, minced
½ jalapeno pepper, minced
½ cup frozen corn
½ teaspoon chili powder
½ teaspoon cumin
¼ teaspoon salt
¼ teaspoon pepper
For the Pizza Toppings
1 prepared pizza crust (I used Bobolli)
1½ cups Mexican 4 cheese blend
¼ cup purple onions
¼ cup cilantro, chopped
½ cup tomatoes, diced
1-1/1/2 jalapeno pepper, chopped
To make the chicken topping. In a medium sized saute pan heat a couple of tablespoons of olive oil over medium heat. Add the chicken, onions, garlic, jalapeno, corn, chili powder, cumin, salt and pepper. Cook for 5-7 minutes or until the chicken is cooked through.
To make the cheese sauce. In a small sauce pan over low heat add the crema, cheese, garlic, salt and pepper. Stir well until the cheese melts. Remove from heat and set aside.
To assemble the pizza. Spread the cheese sauce evenly over pizza crust. Top with chicken mixture and the remaining cheese. Bake in a 425 degree oven for 12-15 minutes or until the cheese is melted and the bottom of the crust is browned.
To serve, add the purple onions, tomatoes, cilantro and jalapeno to the top of the pizza.
Recipe by
Rocky Mountain Cooking
at https://rockymountaincooking.com/2017/02/colorado-chicken-pizza-with-cheesy-white-sauce/