Warm Salsa Fish Tacos with Avocado Cream Sauce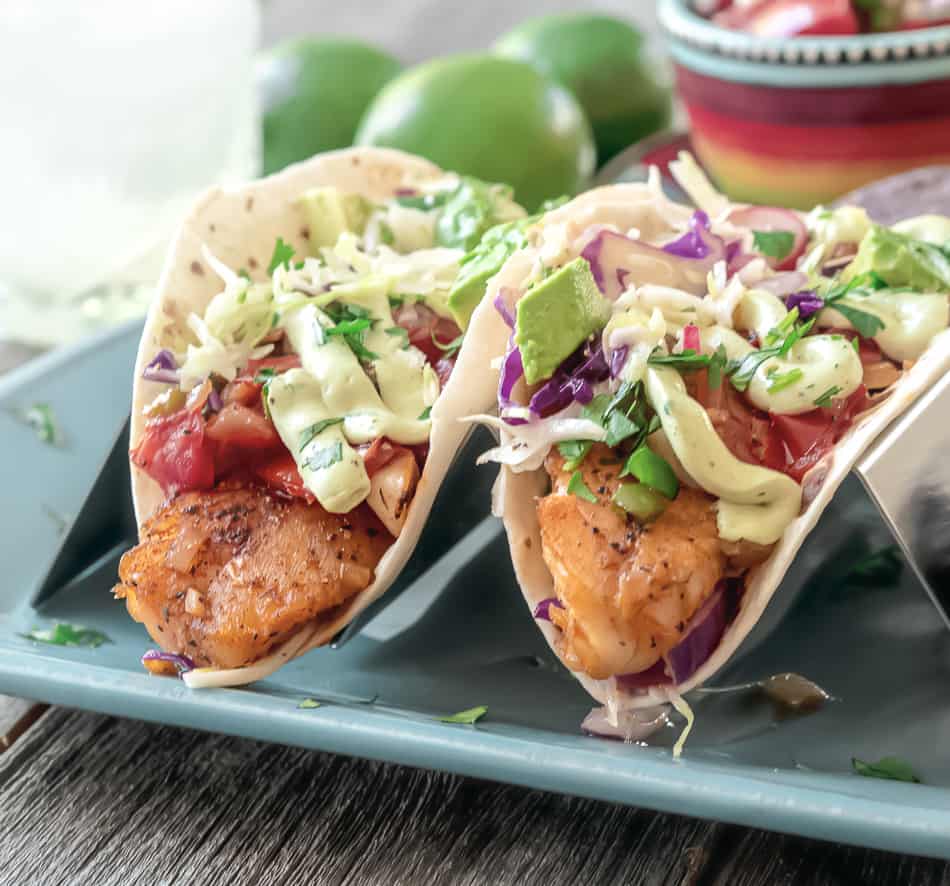 For the Fish
2 tablespoons olive oil
1 pound cod or other firm white fish
1 cup tomatoes, pulp removed and diced
1 cup onions, diced
2 jalapenos, diced
1 tablespoon garlic, minced
Juice from ½ lime
2 teaspoon Ancho chili powder
½ teaspoon cumin
½ teaspoon salt
½ teaspoon pepper
¼ cup cilantro, chopped
For the Avocado Cream
1 cup Mexican Crema
1 avocado
½ jalapeno pepper, seeds removed
2 cloves garlic
2 tablespoons fresh cilantro
½ teaspoon salt
½ teaspoon pepper
½ lime juiced
Additional Ingredients
4-6 small white or corn tortillas
white or purple cabbage, finely shredded
radish slices
avocado slices
fresh cilantro
diced red onions
In a large saute pan heat up the olive oil over medium heat. Add the onions, jalapeno, garlic, salt, pepper and chili powder and cook until the onions become translucent, about 5 minutes.
Pat the fish with a paper towel to remove any excess moisture and season with a pinch or two of salt and pepper and place in the pan. Cook the for about 3-4 minutes per side or until the fish is cooked trough. Add the tomatoes and the cilantro when you turn the fish over.
To make the avocado cream. In a blender, add the avocado, Mexican crema, jalapeno, garlic, lime juice, cilantro, salt and pepper. Blend until smooth.
To assemble the tacos. Fill the bottom or the tortilla with cabbage, radish, red onion, cilantro. Top with fish and the warm salsa and avocado cream. Add more vegetables and avocado slices if you would like.
Recipe by
Rocky Mountain Cooking
at https://rockymountaincooking.com/2017/03/warm-salsa-fish-tacos-with-avocado-cream-sauce/