Colcannon with Irish Sausage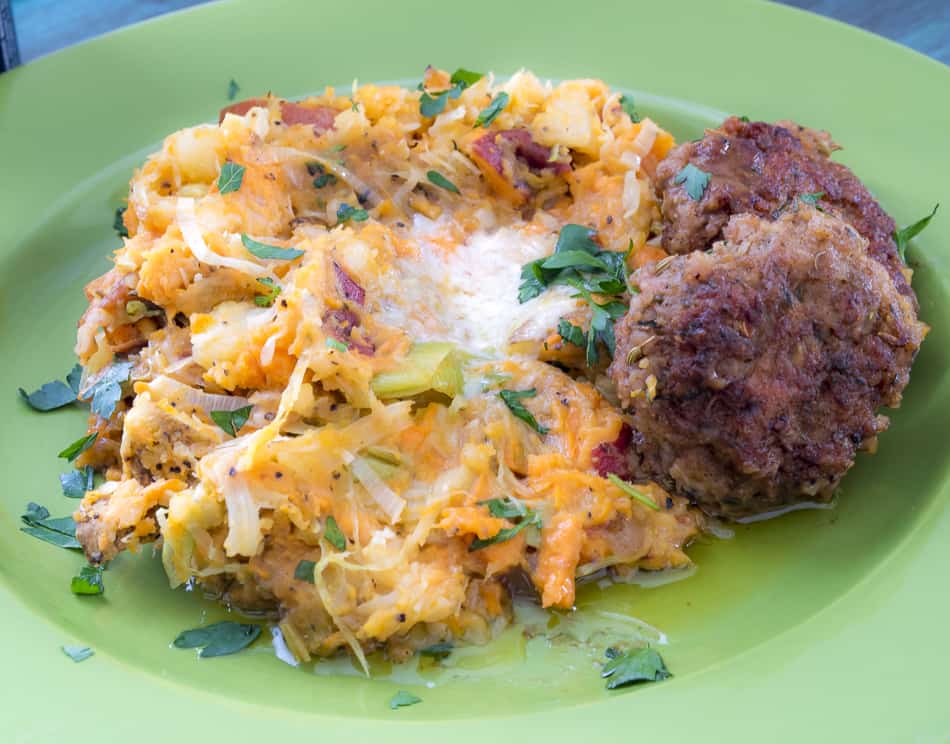 Recipe type:
Main Course or Side Dish
For the Colcannon
1 large russet potato
1 large sweet potato
4 slices thick cut bacon
2 tablespoons butter
2 cups green cabbage, shredded
1 cup leek, sliced into rounds
2 cloves garlic, minced
½ teaspoon salt
¼-1/2 cup half and half or milk
2 tablespoons butter, melted
salt and pepper
For the Irish Sausage
1 pound ground pork
2 garlic cloves, minced
½ cup plain bread crumbs
1 egg
½ teaspoon salt
½ teaspoon pepper
2 teaspoons marjoram
1 teaspoon thyme
1 teaspoon fennel seeds
Fill a large stock pot with cold water and season with a tablespoon of salt. Cut the potato and sweet potato into thirds and put in the pot. Bring to a boil and cook until potatoes become tender, about 15-20 minutes. Drain the water and put the potatoes into a large bowl. Mash the potatoes with a masher or through a potato ricer. Add the butter and half and half and mix well. Season to taste with salt and pepper. Set aside.
In a large saute pan, cook the bacon until crisp. Remove and set aside.
In the same pan with the bacon drippings add 2 tablespoons of butter over medium heat. Add the cabbage, leeks, garlic, salt and pepper. Cook until the vegetables become tender about 5 minutes. Crumble in the reserved bacon.
Add the cabbage mixture to the potatoes and combine well.
To make the sausage. In a medium sized bowl combine the pork, egg, breadcrumbs, garlic, salt, pepper, marjoram, thyme and fennel seeds. Form the sausage into golf ball sized pieces and flatten with your hand to form patties.
Fry the patties in a saute pan coated with olive oil over medium heat. Because they are small it should take no longer than 5 minutes.
The potatoes should yield about 2 pounds.

Tip for cooking the sausage. Take a couple of teaspoons of the pork mixture and fry in the pan before cooking the whole batch. Taste it to make sure the seasoning is on point. If not adjust the seasoning before cooking the remaining patties.
Recipe by
Rocky Mountain Cooking
at https://rockymountaincooking.com/2017/03/colcannon-with-irish-sausage-3/