Zucchini Ricotta Frittata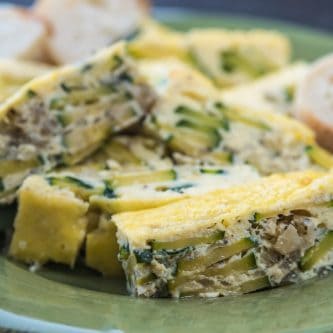 Olive oil
¾ pound zucchini, thinly sliced
1 cup diced onions
1 tablespoon minced garlic
6 eggs
½ cup ricotta cheese
½ cup pecorino romano cheese or parmesan
¼ teaspoon salt
½ teaspoon pepper
Whisk together the eggs, ricotta, pecorino, salt, and pepper in a medium sized bowl and set aside.
Coat the bottom of a large saute pan liberally with olive oil. Over medium heat, saute the zucchini, onions, and garlic until the onions become translucent but the zucchini has a slightly firm bite. Season with a pinch or two of salt or pepper.
Transfer the zucchini to a 9- inch pie plate or an 8- inch baking pan and pour the egg mixture over the top. Use a spoon to evenly distribute the eggs with the zucchini.
Bake at 350 degrees for 30-40 minutes or until a knife inserted comes out clean.
Let sit for 10 minutes before slicing.
Spray your pie dish or baking dish liberally with cooking spray before adding the zucchini and eggs!
Frittatas are great hot out of the oven or served room temperature!
Recipe by
Rocky Mountain Cooking
at https://rockymountaincooking.com/2017/09/zucchini-ricotta-frittata-2/