Bruschetta with Balsamic Reduction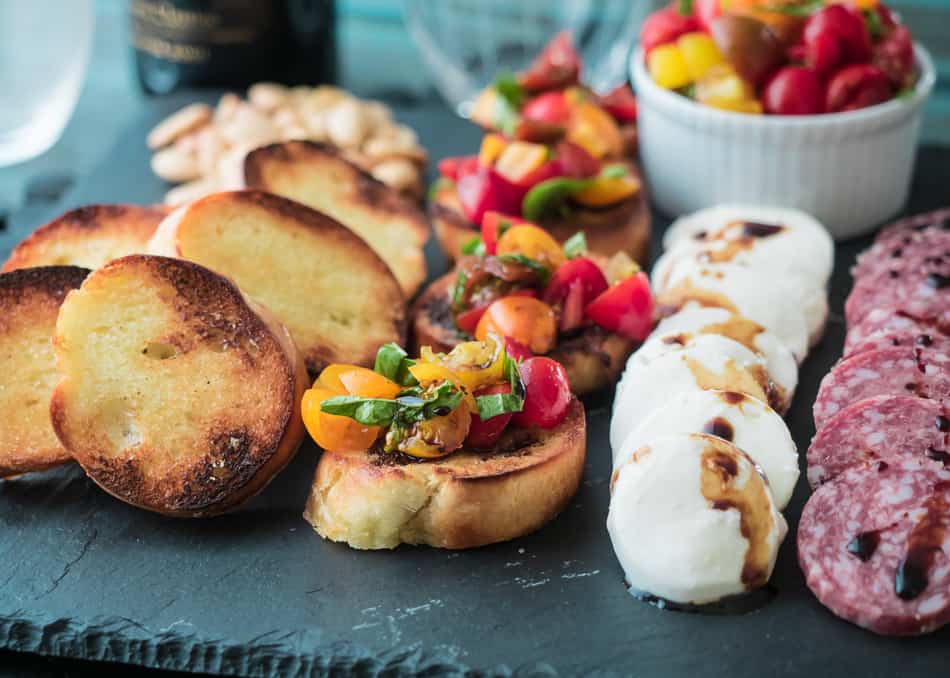 2 cups quartered cherry tomatoes
4 tablespoons good quality extra virgin olive oil
¼ cup torn fresh basil leaves
pinch of Kosher salt and pepper
For the Balsamic reduction
1 cup good quality balsamic vinegar
¼ cup honey
Serveing extras
1 baguette sliced into ½ inch slices
Fresh mozzarella cheese
Salami slices or your favorite Italian meats
Combine the tomatoes, olive oil, basil leaves, salt, and pepper. Toss lightly and set aside.
To make the balsamic reduction, in a small saucepan add the vinegar and honey. Bring to a boil then turn heat to low and simmer for 20 minutes or until the liquid has reduced by half. Remove from heat and let cool. The mixture will get thicker as it cools.
Place the sliced baguette onto a baking sheet. Drizzle olive oil over the bread and place under the broiler. Toast until golden brown, about 1 minute or so.
To serve place tomato mixture over bread slices and drizzle the balsamic reduction over the top.
The extra balsamic reduction can be stored and the refrigerator up to a few weeks. Also, delicious on avocados, over a salad, strawberries, yummy on top of a beautifully cooked steak or chicken. Honestly, it's great on just about anything!
Recipe by
Rocky Mountain Cooking
at https://rockymountaincooking.com/2017/10/bruschetta-with-balsamic-reduction-2/