Not Your Average Chicken Soup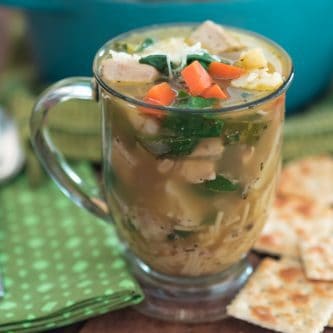 Cuisine:
American as apple pie
olive oil
2 boneless, skinless chicken breasts, diced (approximately 2 cups)
½ cup diced onions
¼ cup diced shallots
1 cup diced carrots
1 cup diced zucchini
1 cup cauliflower (break down the florets into bite-size pieces)
2 handfuls fresh spinach (approximately 3 cups)
1 rosemary sprig
2 bay leaves
2 teaspoons Italian seasoning
¼ teaspoon cayenne pepper
½ teaspoon salt
½ teaspoon pepper
½ cup white wine (I used chardonnay)
6 cups chicken stock (preferably homemade)
Pecorino Romano cheese (or Parmesan)
1 pound small noodles (I used Fideo cut spaghetti)
Coat the bottom of a large soup pot with olive oil and heat to medium. Add the chicken, onions, shallots, garlic, and carrots and saute for about 7 minutes. Add the rosemary, bay leaves, Italian seasoning, cayenne, salt, and pepper. Stir to combine well.
Add the wine and the chicken stock and stir to combine. Cover with the lid and turn the heat down to a simmer and cook for 20 minutes.
While the soup is simmering, cook the noodles according to package directions. Drain and set aside. (Drizzle olive oil on cooked noodles to prevent sticking).
After the soup has simmered for 20 minutes, add the zucchini, cauliflower, and spinach. Cook on low for about 10 minutes or until the vegetables are cooked through.
To serve, place a desired amount of noodles in the bottom of a bowl and pour the soup on top. Add a desired amount of cheese on top. (I like a bunch of cheese).
Chicken noodle tip! Store the noodles in a separate container to prevent them from getting mushy. Just add them when you want to eat them with the soup!
Recipe by
Rocky Mountain Cooking
at https://rockymountaincooking.com/2017/10/not-your-average-chicken-soup-2/