Maple Bourbon Glazed Turkey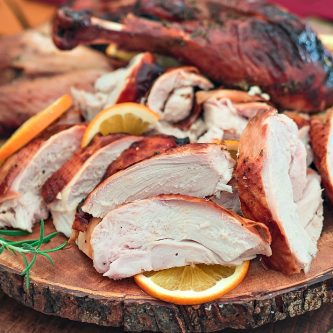 Cuisine:
Thanksgiving Turkey
1 turkey (pick your size) (I always cook a 12-13 pound bird)
1 stick butter, softened
1 tablespoon minced fresh rosemary
1 tablespoon minced garlic
2 teaspoons minced fresh thyme
1 teaspoon ground sage
1 teaspoon salt
1 teaspoon pepper
8 cups chicken broth
1 orange, cut in half
1 small onion
Maple Bourbon Glaze
1 stick butter, melted
½ cup good quality maple syrup
¼ bourbon (I used Makers Mark)
Preheat the oven or grill to 350 degrees.
Rinse and pat dry your turkey and place in a roasting pan with a rack that is large enough to accommodate the bird. Place the onion in the "neck" portion (the hole on the front with the extra skin is) and in the cavity add the orange, squeezing the juice inside before inserting the orange.
In a small bowl, add the softened butter, rosemary, garlic, thyme, sage, salt, and pepper. Mix well with a fork.
Smear the butter mixture evenly over the bird and add 4 cups of broth to the bottom of the pan.
Place the bird in the oven and make the glaze. In a small bowl whisk together the butter, maple syrup, and bourbon. Set aside. (you may need to microwave for a few seconds between basting).
After about an hour, baste the bird with the glaze. Do this every half hour to 45 minutes during the cooking process. Also, baste the bird with some of the pan drippings as well to keep moist. Add more broth as needed (I always end up using all 8 cups).
Cook until the internal temperature reaches 165 degrees (if the thermometer is placed in the breast area or 180 degrees if placed in thigh area). Tent the bird with tin foil if it begins to brown too much during the cooking process.
The general rule of thumb, 15 minutes per pound of bird, if it is unstuffed. I prefer to make unstuffed birds.
Recipe by
Rocky Mountain Cooking
at https://rockymountaincooking.com/2017/11/maple-bourbon-glazed-turkey-2/