Smoked Honey Buffalo Chicken Wings with Blue Cheese Dressing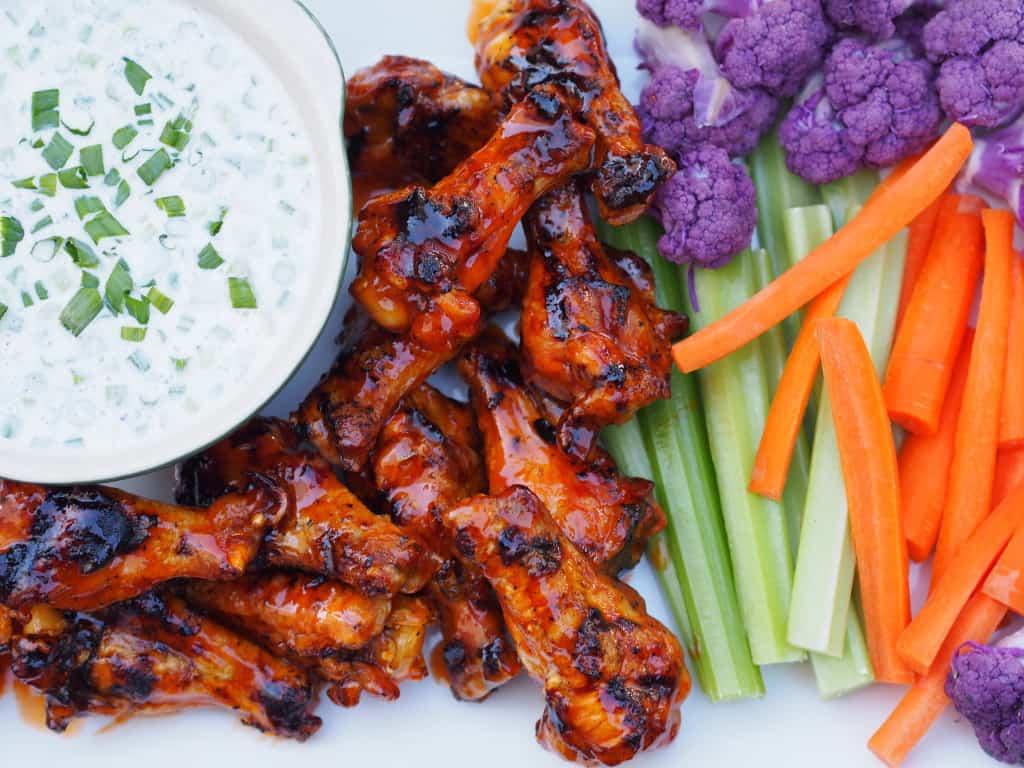 5 pounds chicken wings (I get them frozen, 2 bags)
2 large handfuls apple wood chips for smoking (I like apple wood, it's not too strong)
1 12 oz bottle of Franks Buffalo Style hot sauce
1 stick butter
¼ c honey
Heat up grill to a high heat. Prepare wood chips by placing in a large piece of heavy duty tin foil. Make a pouch and poke a few holes in it to release the smoke. Place on grill and wait for the wood chips to start smoking.
Once the chips start smoking, turn grill to low and place chicken wings on grill. I like to try and keep it around 275 degrees. Smoke wings until the internal temperature reaches 155 degrees. It took about and hour and a half for me. Remove from grill.
In the meantime in a large sauce pan, add the Franks, honey and butter. Melt and stir well.
Add the ½ sauce to a large bowl. In small batches add the chicken wings and coat well. Put the wings back on the grill and cook for about 5 minutes until cooked through and a little char coats the wings.
Remove from grill and in the same bowl add remaining sauce, put wings in for a final coating of hot sauce. Serve hot with blue cheese dressing and veges.
You can smoke the wings ahead of time and store in an airtight container. Bring to a party and throw them on the grill and sauce them when you are ready!
Recipe by
Rocky Mountain Cooking
at https://rockymountaincooking.com/2013/10/grilled-honey-buffalo-wings-blue-cheese-dressing/