Chipotle Honey Glazed Turkey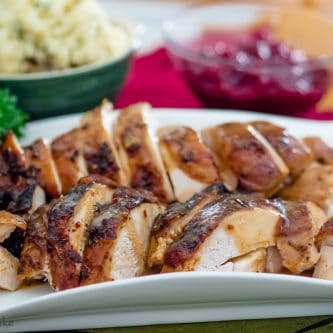 Cuisine:
American/Southwestern
1 stick butter
¼ cup chopped chipotle peppers with adobo
¼-1/2 cup honey (adjust to your taste)
½ cup orange juice
½ teaspoon granulated garlic
1 teaspoon chili powder
2 teaspoons minced fresh rosemary
½ teaspoon each salt and pepper
In a medium-sized saucepan over medium-low heat, melt the butter. Whisk in the chipotle, honey, orange juice, garlic, chili powder, rosemary, salt, and pepper.
Cook until the mixture begins to thicken and the sauce begins to reduce. About 10 minutes.
Turn heat to a very low simmer to keep warm.
To make the turkey
Read the cooking time and temperatures for whatever size bird you are roasting.
Liberally coat the skin of the bird with olive oil and season generously with salt and pepper.
Brush on one liberal coat of the glaze.
Place in the turkey in the oven. Baste every ½ hour to 45 minutes with the glaze and any pan drippings from the turkey until cooked.
For this recipe, I used a 7-pound turkey breast and there was about ¾ cup of leftover glaze. So this would be plenty for a turkey up to 10 pounds. If going for a larger bird, I'd double the recipe.

If using for a ham, the amounts would be the same.
For chicken wings, this would be plenty for a 4-pound bag of party wings.
Recipe by
Rocky Mountain Cooking
at https://rockymountaincooking.com/2018/11/chipotle-honey-glazed-turkey/