I can't believe that Thanksgiving is this week. Man, this year has flown by. This year I'm headed up to my parents house in Evergreen, CO for our annual feast. We will be having a fun group of new and old friends. In my family our motto has always been the more the merrier but we are lucky enough to have our 93 year old friend, Cotton, join us again. Cotton left home at 13 years old and became a rancher. He has the best stories of living in the Old West and he has no problem telling you how it is! As Mom and me are planning our dinner, we are realizing that we will be sending Cotton home with a ton of leftovers. He will be thrilled! Anyway, one guest is bringing short ribs, my Dad is making an Italian turkey and I am making this Roasted "French" Turkey.  I love this recipe. I usually roast chicken this way so why not a turkey.The sauce has a delightful flavor with the sweet wine, oranges, garlic and the mild fennel. I'm not a gravy person so I just serve the cooking liquid like gravy, but feel free to stir in a little flour to thicken it up! This recipe goes really well with my Grand Marnier stuffing that I posted last year. I can't wait til Thursday, to give thanks for all the blessings in my life, hang with my family and friends and of course cook while watching football!
I just walked in the door from this really neat holiday event at the Brown Palace Hotel. For the past twenty eight years the  The Brown Palace Hotel kicks off the holiday season with the Champagne Cascade. They actually stack up 7500 champagne glasses, these guys with these giant saber's slice the top off the bottles and then they fill the glasses with the champagne creating this cool cascade of flowing wine! We bought the VIP tickets (100% of the proceeds went to Big Brothers/Big Sisters organization, something that I used to be involved with). We got prime seating on the second level, unlimited champagne and a beautiful array of food! I can't even begin to tell you how over the top the decorations were inside this grand old hotel. Check out the photos below. Truly stunning. I really need to start paying attention to all the events that go on in Denver. I have been here in Colorado for twenty five years and haven't taken advantage of neat things like this! I really need to make a better effort! 2016 resolution? Why YES!
On a quick final note… I met a dear friend for lunch on Friday. We decided to meet at the mall to do some shopping before all the craziness ensues during the holidays (God knows that I won't step foot in the mall starting this week), anyway, we decided to have lunch at Perry's Steakhouse. We had never been and was told that it is awesome.  Well the recommendations were right and holy cow they have the best lunch special EVER! Seriously this GI-normous pork chop, homemade apple sauce and whipped potatoes for $13.99. I seriously had it for lunch, dinner and breakfast next day!   It was delicious. To top it off, the service was terrific (even though the place was packed) and the atmosphere is really cool and super hip. I kinda wish that we didn't go (ha)because this is going to be one of my new favorite lunch spots! Can't wait to go try it for dinner!
Happy Thanksgiving everyone! 🙂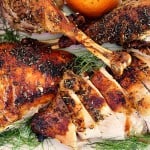 Print
Roasted French Turkey
Ingredients
12-14

pound

Turkey

2

onions

3

fennel bulbs

3

oranges

1

head garlic

peeled and leave the cloves whole

2

cups

Moscoto wine

3

cups

chicken broth

1

stick butter

Salt

Pepper

Herbs de Provence

Olive oil
Instructions
In a large roasting pan, add one onion sliced thin, 2 fennel bulbs sliced thin and garlic. Juice 2 of the oranges and add to pan. Season with a little salt and pepper. Add the wine and chicken broth.

Place the turkey directly on top of the vegetables. Stuff the turkey with one orange, 1 onion and one fennel bulb. I put one half of the orange in the back side of the turkey.

Melt the butter and pour evenly all over the turkey. Liberally season the bird with salt, pepper and Herbs de Provence. Drizzle olive oil over the top.

Place the turkey in a 400 degree oven for 15 minutes. Turn the temperature down to 350 degrees. Baste the turkey every 15-20 minutes and cook until the internal temperature is 170 degrees. (My bird took 2 1/2 hours-ish) Cover with tin foil when the skin becomes a golden brown.

Remove from the oven and let the turkey sit for 20-30 minutes before serving.

Strain the cooked vegetables from the liquid. Reserve the liquid and serve with the turkey.
Notes
When you reserve the liquid from the roasting pan. You can make gravy out of it or pour directly over the turkey when you slice it.