I can't believe that I am saying this but the other night, I had leftover wine. Yep, this is a true statement. Generally, I would have no problem drinking it at a later date, but this time, I forgot to put the cork back in and left it on the counter. Bummer. As someone who hates to waste things, I decided to go all out and do something totally radicle! Boil the pasta in wine. Why not right? You have to boil pasta in something and water is so "yesterday"! Ha!
It's actually a thing that they do in Italy so why not here. As my quest continues to use up stuff in my freezer, I discovered shrimp and pancetta which is perfect because it's the base for a darn good pasta dish. A kicked up shrimp scampi if you know what I mean.
So what happens when you boil pasta in wine? Good things happen. The pasta actually takes on the flavor of the wine. It's pretty subtle but it's there. It would actually be something fun to serve to friends and not tell them what you did. People would be scratching their heads wondering what this deliciousness is. All you would have to say is, "Linguine al Vino Blanco". You will not only stun your friends with cooking brilliance but with your ability to speak Italian as well.
You will need a sturdy pasta like a "linguini" to make this dish. Any thinner pasta will not absorb the wine properly and you will end up with a really "winey" dish and no one like "winey", so trust me on this one. You will actually pre-cook the pasta for a few minutes before adding to the pan to finish off with the wine. You will end up with a nice sauce to coat the shrimp and pancetta concoction! It's definitely shrimp scampi on delicious steroids!
Give this a try. You will love it! 🙂 The recipe is at the bottom of the post!
Here I go again! Cooking with alcohol. I'm a Chardonnay gal so why not cook pasta in it?
So I had something fun happen this week! I got to catch up with friends that I haven't seen since 1998! I love this. It seriously just seemed like yesterday since I saw them! What's even more fun is that I will most likely see them on a road trip that we are planning on this summer to the Pacific Northwest. They are in the Sacramento area, so it's right on the way to where we are headed. Wouldn't that be cool?
Anyway, we met in Olde Town Arvada for a late lunch and drinks.  I swear that I need to get out more. Arvada has gone through such a revitalization that I hardly recognized it. So charming and cute. I'll for sure go back when it's not so cold and explore it a little more. We ended up having a surprisingly delicious lunch at Schoolhouse Kitchen and Libations. I love stumbling upon a great restaurant that has fabulous food, a terrific waiter and, an atmosphere that is warm and inviting. In my world, this doesn't happen enough and one of the reasons that I don't like to eat out too often. Schoolhouse Kitchen is definitely a place that I will go back to and if I was a whiskey drinker this is the place to visit! Over 1400 different kinds of whiskey. Who knew that many kinds of whiskey even exist! Crazy fun! If you live in Colorado, make a visit to Olde Town Arvada. You won't be disappointed! Wow!
Enjoy! Until next week…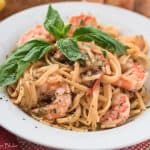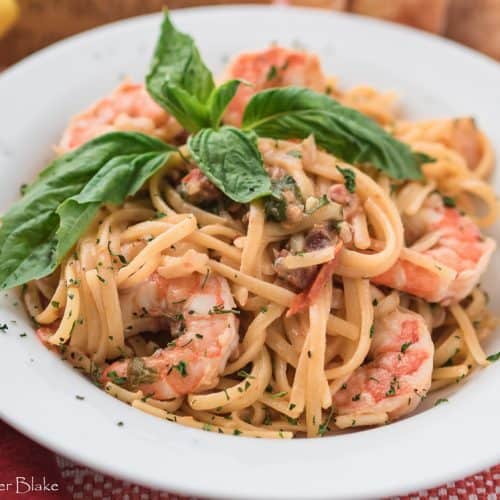 Print
Linguine al Vino Blanco
Linguine al Vino Blanco is a fun way to cook with wine! I added shrimp and pancetta to make it extra delicious!
Ingredients
4

ounces

pancetta

1

pound

large shrimp

peeled and cleaned

1

tablespoon

minced garlic

1/4

cup

chopped shallots

1

cup

cherry tomatoes

1/2

teaspoon

red chili flakes

more if you like it spicier

2

teaspoon

lemon zest

1/4

teaspoon

salt

1/2

teaspoon

pepper

2

teaspoons

sugar

or more to taste

1/2

cup

fresh basil leaves, torn

2

tablespoons

minced fresh parsley

3

cups

chardonnay (divided)

I used Le Crema

1/4

cup

grated Parmesan cheese

12

ounces

linguine pasta
Instructions
Bring a large pot of water to a boil. Add a couple of tablespoons of salt to it. 

While the water is coming to a boil, place the pancetta in a 12" skillet with about a tablespoon of olive oil. Cook over medium-low heat until pancetta becomes crispy.  Remove from pan and drain on a paper towel. Reserve until later. 

In the same pan, add the garlic, shallots, tomatoes, red pepper, lemon zest, salt, pepper, sugar, and shrimp. Stirring constantly so that you don't burn the garlic. Saute until the shrimp begins to turn pink (about a minute or so) and remove from the pan. (no one likes overcooked shrimp) Set aside. Add 1/2 cup of wine to the pan and cook until it begins to reduce.  About 5 minutes. 

When you add the wine to the pan, cook the pasta for 5 minutes. No more! 

Before draining pasta, reserve 1 cup of pasta water. Drain pasta and transfer to the garlic/shallot mixture. Pour in the remaining 2 1/2 cups of wine and turn the heat up to high. Bring to a boil and cook for 5-6 minutes or until it is al dante. 

When the pasta is done, toss in the pancetta, shrimp, basil, parsley and, parmesan. Combine well. There should be a little liquid left but if you need, add a little of the reserved pasta water. The heat of the pan will finish cooking the shrimp. 

Adjust seasoning if needed. Serve immediately.