Here we are, well into 2020 and a new decade! It's a bit surreal knowing that I'll be turning 50 soon and I vividly remember that when I was a kid or even in my 20's, thinking that 50 was old as dirt. To tell you the truth. I love being as old as dirt. It's a good place to be, especially to start a new decade with a "zero" as the last number. It's like a fresh new start!
Fifty is the number that I gave myself to retire from a 22+ year as a Real Estate broker and move completely into making blogging my career and not just a hobby!  It's time to finish my book and get that off my proverbial plate. 2020 is the right time. I have mentally prepared myself for this year and I can't wait. I have a lot of plans for food and travel on the horizon so stay tuned! It's gonna be a fun ride!
Roasted Potato Garlic Soup
This year started out for me with the nasty flu that kept me on my back for 2 full weeks. I literally ate chicken soup and had more homeopathic elixirs than one can imagine! That being said when I started to feel better, I was craving something really warm and comforting. To me, comfort food is a thick and delicious soup which is how this Roasted Potato Garlic soup came to be!
Roasting potatoes and garlic is an easy way to jazz up any potato soup. Roasting the veggies adds a subtle nutty flavor that is just delicious. I also added a lot of potatoes so that I could avoid adding extra cream or flour to the mix to make it thick. Essentially, once it's blended together(I use an immersion blender to make things easier), you don't need it. The potatoes do that job perfectly. Follow along as I have some great ideas to make this soup even more amazing!
Have a Potato Soup Party!
What you may ask? Yep, have a soup party! It is that time of year where football gets exciting and a lot of us will be hunkered down to watch the games of the next couple of weeks. I know that we all think about great appetizers to share and try to think of things that will please a crowd. It seems that almost everyone loves a baked potato "bar", so why not use this soup as a base for just that! This soup offers limitless possibilities for just this!
Ideas for the perfect potato soup bar!
Having a potato soup party is a great way to please a crowd! Encouraging your guests to add what they want to make their soup over the top delicious and catered to their liking is a fun and easy way to entertain any group. Here are some ideas to put it together. Just gather some bowls and set things out as you wish!
 Everyone loves crumbled bacon, so this is must-have, but why not add some cubed ham, salami, various sausages (think andouille), chopped chicken (plain, bbq or buffalo style), or ground beef?
Cheese is essential. Shredded cheddar, swiss, Monterey Jack, gouda, Colby, feta, or blue cheese. You pick, cheese is good.
How about making a pot of chili too? A scoop of chili with the soup and some cheddar with onions. OMG, my mouth is watering.
You gotta add some veggies to the mix. Broccoli, chopped green onions, roasted red peppers, caramelized onions, chives, chopped tomatoes, corn, black beans, avocado or guacamole, sauteed mushrooms, or roasted eggplant. You get the picture!
How about the extras? Sour cream, Boursin, ranch dressing, sriracha, other hot sauces (Merf's is my favorite), or some creme fresh!
These are just a few ideas. Is there anything else that I'm missing? If so, let me know!
I hope I gave you some ideas for throwing a different type of party. I know that I would love to come to a party with this kind of spread! Enjoy!
ps. there is an Amazon link on this page. If you happen to purchase the product listed, I make an itsy bitsy commission. It doesn't affect your price though! 🙂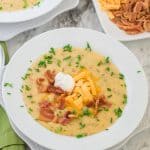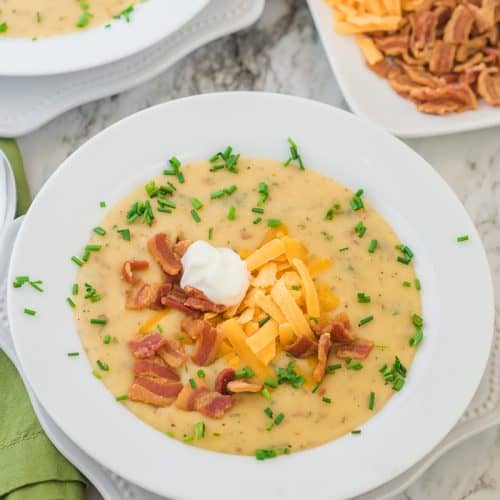 Print
Roasted Potato Garlic Soup
A big bowl of Roasted Potato Garlic Soup is comfort food at it's finest! The beauty of this soup, it's a great base to use your imagination for add-ins!
Ingredients
Roasted Potatoes and Garlic
2 1/2

pounds

small red-skinned potatoes

1

head

garlic, broken into cloves

leave skin on

olive oil

salt and pepper
For the Soup
2

tablespoons

olive oil

1/2

cup

diced onions

2

bay leaves

2

teaspoons

dried thyme

1/2

teaspoon

salt

1/2

teaspoon

pepper

6

cups

chicken stock

roasted potatoes and garlic

1

cup

shredded cheddar cheese

1/4

cup

chopped fresh parsley
Instructions
For the roasted potatoes and garlic
Chop the potatoes into cubes and break apart the garlic head. Place on a large cookie sheet and drizzle olive oil over the top. Sprinkle a couple of pinches of salt and pepper over the top. Give it a good mix to evenly coat.

Roast in a 425-degree preheated oven for 25-30 minutes or until the potatoes are cooked through. Remove from the oven and set aside.

When the garlic cloves are cool enough, squeeze out the roasted garlic from the skins. Set aside.
To make the soup
In a large soup pot over medium-low heat add about 2 tablespoons of olive oil. Add the onions and saute until they become translucent. About 3 minutes. Add the potatoes and garlic, bay leaves, thyme, salt, and pepper. Stir to combine and add the chicken stock. Simmer over medium-low heat for 20-30 minutes.

Remove from the heat and take out the bay leaves. With an immersion blender or in a regular blender (in small batches) blend the soup until smooth. (If using a blender, put the soup back in the pot). Stir in the cheese and the parsley. Let the cheese melt. Serve immediately.