I can't believe that Christmas is a week away and 2017 is coming to an end. It's been a great year for me. Real estate was incredibly busy and I worked diligently on my upcoming cookbook. I was also lucky to be able to travel to South America, Europe, a few American destinations and spend quality times with loved ones and friends.  For this, I have more than enough and I am truly thankful for all the opportunities and love that I have in my life. This Christmas, I will enjoy my entire family. I can't wait to catch up with my adorable nieces and have a fun family round-robin game of tennis with everyone. I know that my nieces will enjoy hitting "hard" with Auntie Heather. I'm so looking forward to this, although they I'm sure are too good for me now!  It's going to be a nice visit with the entire "Blake" family all together! Can't wait!!!
So holiday parties are in overdrive now and these Crab-Stuffed Mushrooms are insanely addictive with not only decadent crab but bacon and cheese. Basically, why we put on 5 pounds during the holidays! These combinations of flavors all baked together with big fat mushrooms are a match made in heaven and a perfect addition to any party! I'm a sucker for stuffed mushrooms and these will be added to the repertoire for stuffed mushroom recipes for me. Even if you aren't a mushroom fan. Eat the stuffing! It's that tasty! I have another stuffed mushroom recipe which is just delicious! Check out Sundried Tomato and Sausage Stuffed Mushrooms.
Looking for a last-minute Christmas gift idea? Check out the puzzle that I just finished! I  haven't done a puzzle since I was like 12 years old. I don't know what prompted me to do one but I was inspired when I walked into the Liberty Puzzle store in Boulder.  Wow! So many amazing puzzles that are made in Colorado! They are all so beautiful and made out of wood! It was a challenge for sure. I can't wait to do another one. I think I'll frame this one! It's a great gift for any puzzle lover!
Enjoy and Have a Merry Christmas!!!
Other Stuffed Mushroom Recipes!
Sundried Tomato and Sausage stuffed mushrooms
This recipe was originally posted back in 2015 when I first started my blog. It's been updated in 2021.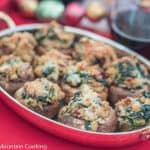 Print
Crab-Stuffed Mushrooms
Crab-Stuffed Mushrooms are not only filled with yummy lump crab meat but bacon and spinach! A perfect addition to any holiday party!
Ingredients
6-

ounces

lump crab meat

4

slices

bacon

1/4

cup

minced shallots

2

teaspoons

minced garlic

24-

ounces

large stuffer mushrooms

reserve the stems

2

slices

of bread

5-

ounces

fresh spinach

1/4

cup

grated Romano or Parmesan cheese

4

tablespoons

butter

divided

2

tablespoons

olive oil

1/4

teaspoon

salt

1/2

teaspoon

pepper

Olive oil

Additional cheese for sprinkling on top of mushrooms
Instructions
Clean and stem the mushrooms. Reserve about 10 stems and chop finely. Set aside.

Cook the bacon until crispy. Drain on paper towels. When dry, crumble finely. Set aside.

Place the bread in a food processor or blender and blend until crumbs are formed. Set aside.

In a medium-sized saute pan over medium heat melt 2 tablespoons of butter and 2 tablespoons of olive oil. Add the shallots, garlic, and reserved mushroom stems. Saute for about 5 minutes or until the vegetables become soft. Stir in the spinach, salt, and pepper and cook until the spinach is wilted.

Place the crab meat in a medium-sized bowl. Add the reserved bacon and the vegetable mixture.

To the same pan that you cooked the vegetables in, add the remaining 2 tablespoons of butter and melt. Add the reserved breadcrumbs and cook until the bread begins to brown, stirring constantly. Add the breadcrumbs to the crab mixture along with the cheese. Combine well.

Stuff the mushrooms with the crab mixture and place in a baking dish large enough to hold the mushrooms. Place about 1/2 cup of water in the bottom of the baking dish and drizzle the mushrooms with additional olive oil and sprinkle more cheese on top.

Bake at 375 degrees for 25-30 minutes or until the tops are browned and the mushrooms have softened.
Notes
This made 15 large stuffed mushrooms for me. It will depend on how big your mushrooms are.