Our second part of our trip took us to Croatia! OMG! By far, hands down one of the greatest places to visit on our planet! I know that I am going to ramble on about how awesome this place is, but bear with me, I am going to pretend like I am a Croatian. I learned Croatians are not humble but are totally proud of their country and want everyone to know how awesome they are! So, I will be a surrogate Croatian ambassador.   This place is awesome, the people are super friendly, everyone speaks English (which is good because Croatian is hard to follow), the food is amazing and healthy (more on that later), the sea is a beautiful blue, the coastline has beautiful mountains, the history is mind boggling and the men are very large, lean and tall (the NFL needs to get recruits from this place) (I just had to throw that in for giggles).
My first of three posts on Croatia will be pictures of things we saw on our adventure. Everyone has been bugging me to see what Croatia is like, so here it goes. I took over 1300 pictures (oh my) so I picked out a few to post. I included some pictures from each place we visited! Our trip was spent traveling down the Dalmatian Coast. We started in Split, island hopped to Brac, Hvar, Korcula and finished up in Dubrovnik.
Split, Croatia is the second largest city in the country. It's main claim to fame is the Diocletian's Palace. I had no idea who he even was and I'm guessing you don't either, so I included a link so you to can learn all about it. The palace is now part of UNESCO world heritage site. Its just awe inspiring to be in something so old! Split also has a really pretty promenade called the Riva. It's a great place to people watch and watch the boats go by.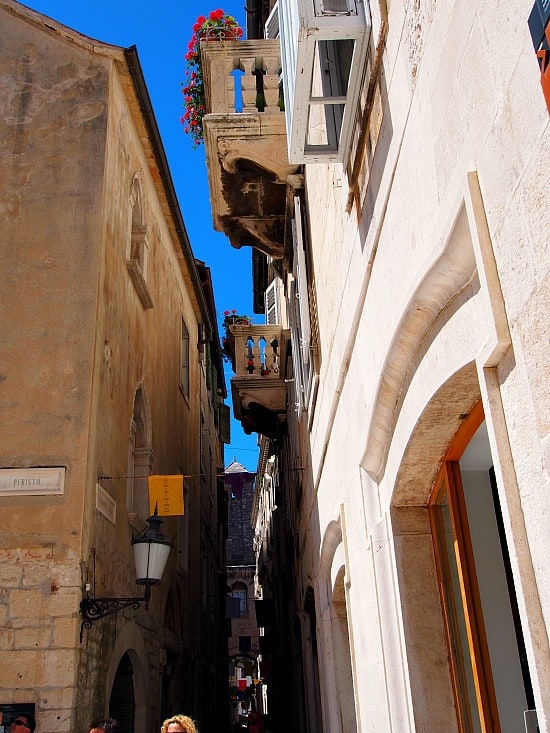 Shops, restaurants and residences all within the walls. How cool would it be to live inside? As a Realtor, prime real estate! Location, location, location…
We then headed to the islands of Brac. We stayed on the northern coast in a little tiny town called Postira. This island is covered with olive trees. We even visited an olive farm that has been producing olive oil for over 3000 years. Of course I bought some from this adorable elderly couple who was so proud of their oil. The island is also has a 16th century hidden monastery called Pustinja Blanca founded in 1551. Just a really special place to visit and hard to believe how it was built! Did you know that the White House was built from stone from the island of Brac? Neither did I. Crazy bit of information!
Hvar was the next stop on our trip. We stayed in the town of Hvar. This town is the "fun" place on the islands. There are no cars allowed so everyone and their dogs are walking around, sipping coffee or wine on the promenade and watching the fancy boats in the harbor. This island is known for it's lavender fields and vineyards. It also has these amazing rock walls everywhere.  The island is so rocky and dry that the people built all these walls to capture water as well as to clear a way to plant things! It's quite a sight to be seen!
Last island stop after a storm delay that kept us on Hvar for an extra day (darn) was Korcula. Korcula is a really special place and one that I wish we could have spent more time on. We had such a great experience there that I am actually going to dedicate a whole blog page to it!  Have ever heard of Marco Polo? Well, he lived there. The Italians won't admit it, but he did! The walled town of Korcula, is a tiny Dubrovnik. Super amazing and right on the water. I'll post pictures of Korcula on another post!
Finally, our last nights in Dubrovnik. Everyone has heard of it for a reason. It's awe inspiring.  Dubrovnik is among the 10 best medieval walled cities in the world and is a UNESCO World heritage site. All the cruise ships stop here, so it's crowded. But forget about the crowds, get lost on the streets and the tiny ally's. Walk the wall for the most breathtaking views. Oh, eat ice cream. Everyone else is!
I hope you enjoyed my "mini" tour of Croatia! Next stop, Croatian Foodie Tour!