So I am not even going to try and pronounce this soup that I ate after we hiked to a little hut above the hamlet of Zug, Austria. No need to. It should be called "damn good" or "best soup ever" or "holy cow this should be its own food group" soup. Seriously, it's this good. I usually cook on the weekends (not his week though, I had to make this earlier) and then share what I make with friends and family but this week I became a hoarder.  I hoarded all of it and didn't even give one bowl away. It gets worse, I made a second batch and ate that too.  I'm terrible but I had a really active week so I can justify my overindulgence or at least that is what I am telling myself!
Imagine eating the perfect grilled cheese laced with a little onion so it tastes like you are eating a French onion grilled cheese sandwich served in a hot bowl of broth. Well, that's it. Simple, good comfort food at its finest. My sister-in-law will die and go to heaven when she eats this and I can't wait for her to try it as she is a grilled cheese aficionado. I may even fly to New Jersey to make it for her. Yep! It's that good, I'd drop some cash to make this for someone who I know would love it! That's saying something. So I must thank the genius in Austria who came up with these cheese dumplings and thought to put them in a soup! What's even better, you can make the dumplings and freeze them (un-cooked and fry when thawed out) so you can take them out when you are craving something that is out of this world! I have to stop talking about this now! I may find myself making another batch! Ha!
So part of the reason that I landed in St Anton is that I have a best friend who lives there and her husband is the GM at a really great hotel. Anthony's Life and Style Hotel is about four years old or so and is one of the nicest hotels that I have had the privilege to stay at while traveling in Europe. My friends were so nice to take care of my lodging in St Anton, and I got to stay at one of their lovely apartments in St Jakob (above their apartment in a neat home that dates back 300 years) and at Anthony's! Anthony's is right in the heart of town and a quick walk to the slopes and all the bars, restaurants, and shopping! It also boasts two fantastic restaurants and a club that goes all night with live music and dancing. It's definitely the place to be while in this super fun ski town! So I got to experience the best of both worlds on my trip. Hanging with the locals in a quaint little area and being the total tourist staying at a cozy and enjoyable top-notch hotel in the center of town! Still pinching myself!
Cheese Dumpling Soup- Käsenodelsuppe
BEST soup EVER.... It's like eating a grilled french onion cheese sandwich all in a bowl of soup.. Nuf said..
Ingredients
1/2

cup

finely chopped onion

2

teaspoons

minced garlic

2

tablespoons

butter

2

tablespoons

olive oil

1/4

cup

milk

3

eggs

1/2

teaspoon

salt

1/2

teaspoon

pepper

pinch

of nutmeg

2

tablespoons

minced chives or scallions

7

oz

finely diced white bread

I used large sandwich rolls from the deli

10

oz

grated Swiss or Gruyere cheese

8

cups

of preferably homemade chick stock

butter and oil for frying dumplings
Instructions
Melt butter and oil in a saute pan and cook onions and garlic until soft. Three minutes or so. Remove from heat and set aside to cool.

In a large bowl whisk together eggs, milk, salt, pepper, nutmeg and 2 tablespoons of minced chives or scallions. Add bread, cheese and onions and mix until incorporated.

Cover and refrigerate for at least 1/2 hour.

When ready to cook dumplings, melt two tablespoons of butter and 2 tablespoons of olive oil in a saute pan until bubbling.

Take about 1/3 cup of dumpling mixture and make a ball and flatten out with your hands to form a disk (think crab cake).

Fry dumplings in butter until golden brown on both sides (about 2-3 minutes per side). I did mine in batches of two per batch and made eight dumplings.

Heat up broth until hot.

Place two dumplings per bowl and pour hot broth over them. (The hot broth will melt the cheese even more).

Top with chopped chives or scallions and serve.
Notes
If you don't have homemade stock, buy the packaged "box" chicken or beef stock. Heat up with one bay leaf, 1/4 tsp salt and pepper, one clove of garlic minced, and maybe a pinch of a red pepper flake. This will "doctor" it up a bit and make it a little more flavorful.
I adapted this recipe from Traditional Tyrol recipes (www.hubertkrenn.at) if you want to check out other Tyrolean recipes.
Looking for a great chicken stock recipe? Here you go!https://www.rockymountaincooking.com/2018/10/homemade-chicken-stock-3/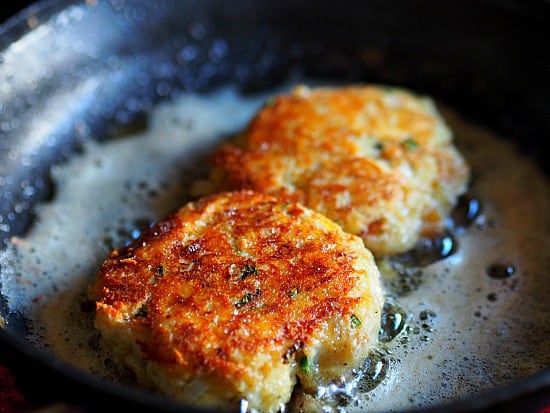 The cheese dumplings frying away. It's just like cooking a crab cake except with cheese instead of crab! So good!