A couple of weeks ago when my Palisade peaches arrived, I was on an all-out frenzy making things with peaches. I decided that a Homemade Peach Galette would be a fun thing to make with all peaches. Galette is a French term to refers to a flat, freeform, crusty cake or pastry. They are relatively easy to make as after you roll out the dough and add the filling, you just need to fold the edges up and around it. You don't even need to be fancy! Rustic is key here and what is great, no two galettes will ever look the same! That's ok in my book. Try making this peach galette with all those wonderful peaches that are in season right now! Delicious. These pictures are making me hungry. LOL!
So yesterday late afternoon my friend Anshie who writes her blog Spice Roots and I went on a sunflower hunt. I was so happy that she knew where to go! I went out last weekend and couldn't find them anywhere. Turns out I was on 96th Avenue and the flowers are off 120th this year. Oh well, at least we found some nice fields. For all of you that don't know about Colorado sunflowers, well, there are lots of them. Something like 300,000 acres of them across the Eastern Plains. For all of us Denver dwellers, we are lucky because the fields start out by Denver International Airport (DIA). DIA owns about 40,000 acres outside of the perimeter of the airport and leases the land to farmers for their crops. The sunflowers are planted for cooking oils and snaking seeds but they are also planted for crop rotation and are drought resistant. Because of the plant rotation, the fields are in different locations. Thus, the "hunt" is on to find out where they are each year.
If you are in Denver and want to see the fields you don't have much more time. The field where these pictures were taken 120th/Imboden Rd. are starting to fade and some fields have already been plowed.  On last weeks journey, there could be a possible field at 96th/Tower Rd about a 10-minute drive east. This is just a fun August activity in Denver. Take a small road trip and walk through a beautiful field of flowers. It's good for the soul, I promise!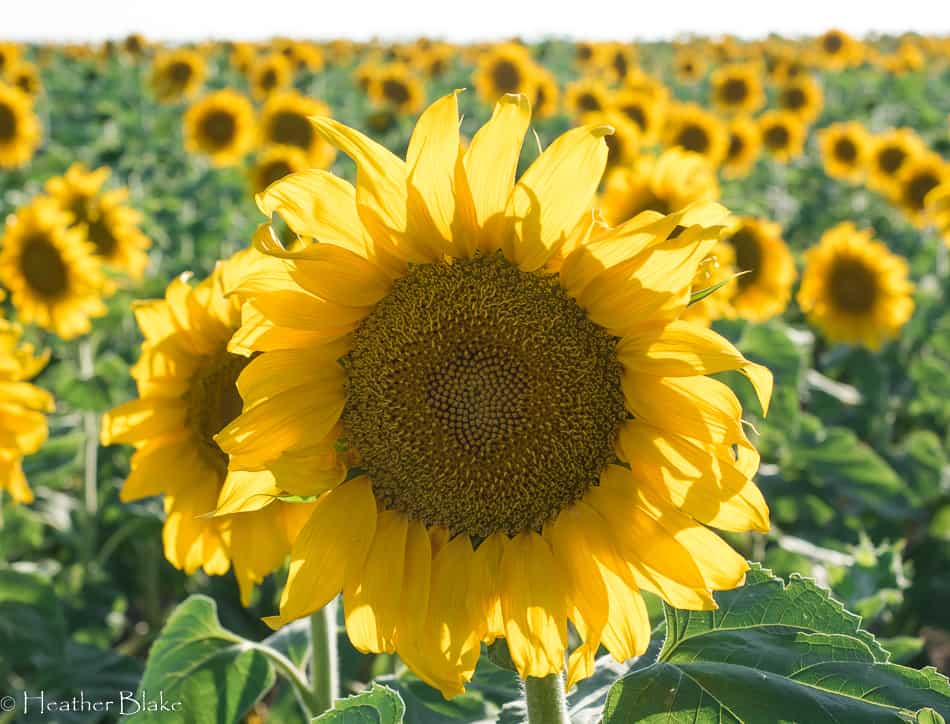 There is nothing like standing in a huge field of sunflowers. It's like hanging out with a bunch of happy friends!
Homemade Peach Galette
Homemade Peach Galette is a simple rustic dessert perfect for summertime. Look at all those perfect peaches encased in a light and flaky pie crust! Tasty!
Ingredients
For the crust
1

cup

all purpose flour

1/2

cup

whole wheat flour

1/2

teaspoon

salt

2

tablespoons

sugar

1

stick

cold butter, cubed

1/3

cup

ice water
For the peaches
3

pounds

fresh peaches, sliced 1/2 inch

about 7 medium sized peaches

1/2

cup

sugar

2

teaspoons

vanilla

1/2

lemon, juiced

2

teaspoons

lemon zest
To finish the galette
2

tablespoons

butter, melted

2

tablespoons

sugar
Instructions
In a food processor add both flours, salt, and sugar. Pulse a couple of times to combine. Add the butter and pulse about 10 more times. You want to see pea-size pieces of butter. Slowly sprinkle in the water until the pastry comes together. Dump the mixture out on a board and with your hands form a ball and flatten out to a disk. Wrap tightly in plastic wrap and place in refrigerator for at least a half hour up to a few days.

Slice the peaches into 1/4 slices. Place the sliced peaches into a medium-sized bowl and add the sugar, lemon juice, and vanilla. Mix to combine well. Set aside.

Preheat oven to 400 degrees and get the pastry dough out of the refrigerator. Place the dough on a lightly floured work surface and roll out with a rolling pin to 1/4 inch thickness. You will have extra liquid from the peaches, DO NOT add it to the galette. Carefully fold the sides up and around the peaches. Brush the melted butter around the peach galette and sprinkle the sugar around the edges. If there is leftover butter and sugar pour over the peaches.

Transfer the peach galette to a parchment lined cookie sheet and bake for 45-55 minutes or until the edges become brown and the peaches are tender.

Remove from oven and let cool. Serve warm or at room temperature.

Recipe Notes
Notes
The pastry dough can be frozen up to 3 months. Thaw overnight before rolling out.