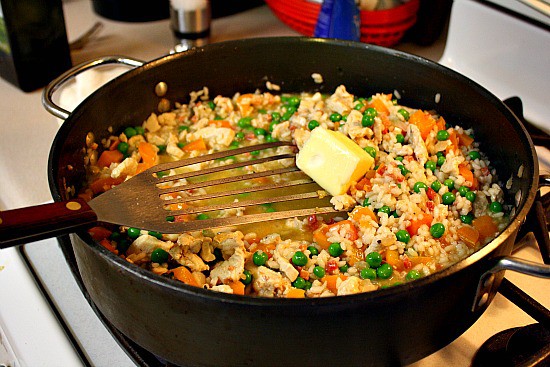 Well, here it goes… my first blog post and the beginning of something new! It's a little scary but a good scary!
So after some thought and months of filling up my "online recipe box", I decided to start with risotto. I love risotto and its one of my go to things to make. Its great for leftovers and freezes really well for the nights that I have no time to cook!
A couple of weeks ago, my good friend Lea Ann Brown and author of http://highlandsranchfoodie.com/  (she is my number one influence for going into blogging and just one great lady) said that she had never made risotto. We thought this would be a good place for me to start, a "risotto" cooking lesson! I gathered up items in my pantry and came up with this Chicken, Pancetta Risotto with Peas. Super yummy! We served it with a simple salad and a small lamb "pop" dusted with Harissa and grilled.
Her husband Bob raided his wine cellar too. Before dinner we enjoyed a  Miraval,  Coates de Provence 2012, $22, Rated 90 point Wine Spectator.  From the Estate on Angelina Jolie and Brad Pitt. With dinner, we sipped a Kosta Browne Pinot Noir 2008 Russian River Valley ($52).  Wine Spectator 2010 #12 on the top 100 rated 94. Both were amazing compliments to a great evening, of laughter, food, our dogs and fun!
One more shout out! I have to thank Yvette Marquez-Sharpnack, author of Muy Bueno Cookbook, http://www.muybuenocookbook.com/. She is also a friend who gave me tremendous insight into food blogging and who developed my logo! Yvette has been a great influence!
Let the blogging begin!
Chicken and Pancetta Risotto with Peas

Print recipe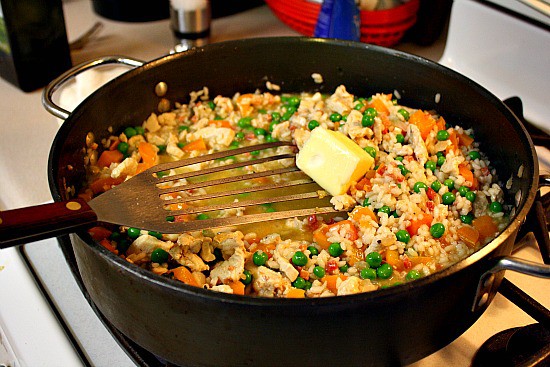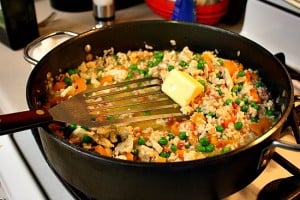 Ingredients
1 small onion (diced)
3 Cloves garlic (minced)
4oz panchetta (diced)
2 chicken breasts (diced)
1 red, yellow or orange pepper (diced)
1 cup arborio rice
2 fresh thyme sprigs
4 Cups home made chicken stock (heated in a separate pan)
1 cup white wine (heated with the chicken stock)
1 cup fresh or frozen peas
1 cup Parmesan cheese
1 tablespoon butter
Directions
| | | |
| --- | --- | --- |
| | | On a medium high burner heat olive oil in a large flat bottom pan. |
| | | Add diced onions and pancetta and cook until onions are translucent and pancetta is browned. Add garlic and cook for one minute. Add diced chicken and peppers and cook for three to four minutes. |
| | | Add arborio rice and stir into mixture. Cook the rice until you can see a "white" center appear and the edges become "translucent". |
| | | Lower temperature to medium, add thyme sprigs and add one cup of heated broth and wine mixture to the rice and cook until the liquid is absorbed. Repeat this step until you have used all but one cup of broth/wine. This will take 15-20 minutes. |
| | | Add the final cup of broth/wine, peas and Parmesan cheese and cook until all the liquid has absorbed and the peas are warmed through. Stir in the butter, season to taste with salt and pepper and serve hot. |