Easy grilled salmon is on the blog today! And I'm very excited about it.
In Colorado, we are hardy souls… We grill year round, even on one of those odd winter days when it's below zero! It rarely happens, but when it does, we grill on… Now that's summer, it's definitely more pleasant to  hang outside with a cold beverage and cook your dinner, without a hat and gloves. Although this summer has been a scorcher! You almost need a baby pool in front of your grill to keep cool!
As most of my friends know, I'm not the big fish eater. Mainly because, I have spent way too much time on both coasts and have been spoiled rotten by good fish and seafood! Living in Colorado, good fish and seafood is harder to come by, not impossible but it can be pricier! So when the good stuff comes in, it's all seems OK! Early summer is the best, especially when Copper River Salmon is in season! Its my favorite salmon, hands down. This recipe would be just fine on any salmon or trout for sure but if you can still get this variety, try it- it's worth the money!
Anyway, grill on, fish on and try this recipe!
Easy Grilled Salmon

Print recipe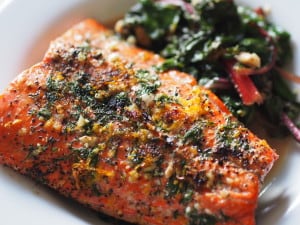 Ingredients
8oz Salmon Filet (I used Copper River Salmon for this recipe)
2 garlic cloves (minced fine)
1 lemon rind (zested)
3 Teaspoons fresh dill (chopped)
salt and pepper
olive oil
Note
Grill temperatures vary, so keep an eye on your fish. Just remember to start cooking skin side down! I served my salmon with rainbow chard sauteed with garlic, olive oil and salt and pepper. A perfect light supper!
Directions
| | | |
| --- | --- | --- |
| | | Heat grill up to 400 degrees |
| | | In a bowl, mix together, garlic, dill and lemon rind |
| | | Place salmon on a flat dish and coat liberally with olive oil and season with a generous pinch of both salt and pepper |
| | | Cover salmon with the garlic, dill and lemon rind mixture and put on grill, skin side down |
| | | Grill for 5 minutes and turn salmon over for another 3-4 minutes and cook until fish is still moist but flaky |