You can make your own Sun-dried tomatoes at home! Save money and well it's a no-recipe, recipe!
If you are like me, you love fresh tomatoes in the summer. Sweet, yummy and versatile! If you are also like me, you have way too many tomatoes from your plants that you know what to do with! If not, buy them at the store or your local farmers market! Sun-dried tomatoes are super easy to make and so much better than the ones you buy in the store! They will store in your refrigerator for up to six months in a plastic baggie for use anytime that you want to add to basically anything- they are that good! The best thing, it's an easy process that requires no recipe! Love that!
Making Sun-dried tomatoes is a process and just requires a few items.
What you need…
5 pounds fresh tomatoes (I used Roma)
1 tablespoon salt
1 cookie sheet
2 square cookie cooling racks
cheese cloth
3-4 days of sunshine
Place drying racks on cookie sheet. Cut tomatoes into thirds and line up on racks. Liberally sprinkle tomatoes with salt. Cover tomatoes with cheese cloth to keep out things you don't want. Place in the hottest, most sunny place that you have outside. In 2-4 days you will have Sun-dried tomatoes. You will know they are done when they are dry but pliable. Make sure you bring your tomatoes inside at night, just in case there is any dew or night time rain.
The drying process makes the tomatoes sweet like candy! Once you make your own, you will never buy them in the store again! Five pounds of tomatoes will yield about 2 cups of dried tomatoes!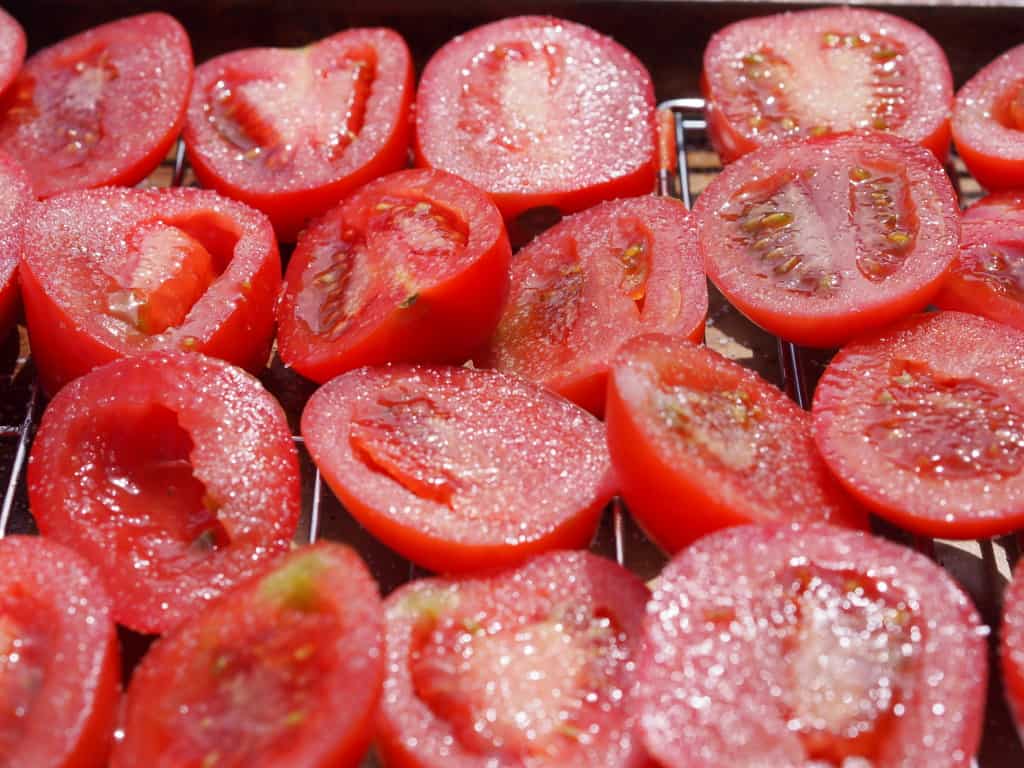 Tomatoes lined up on the drying rack!
Note: If you live in more humid environment than Colorado, the process may take a bit longer. Just make sure its in the sunniest, hottest place you have outside!