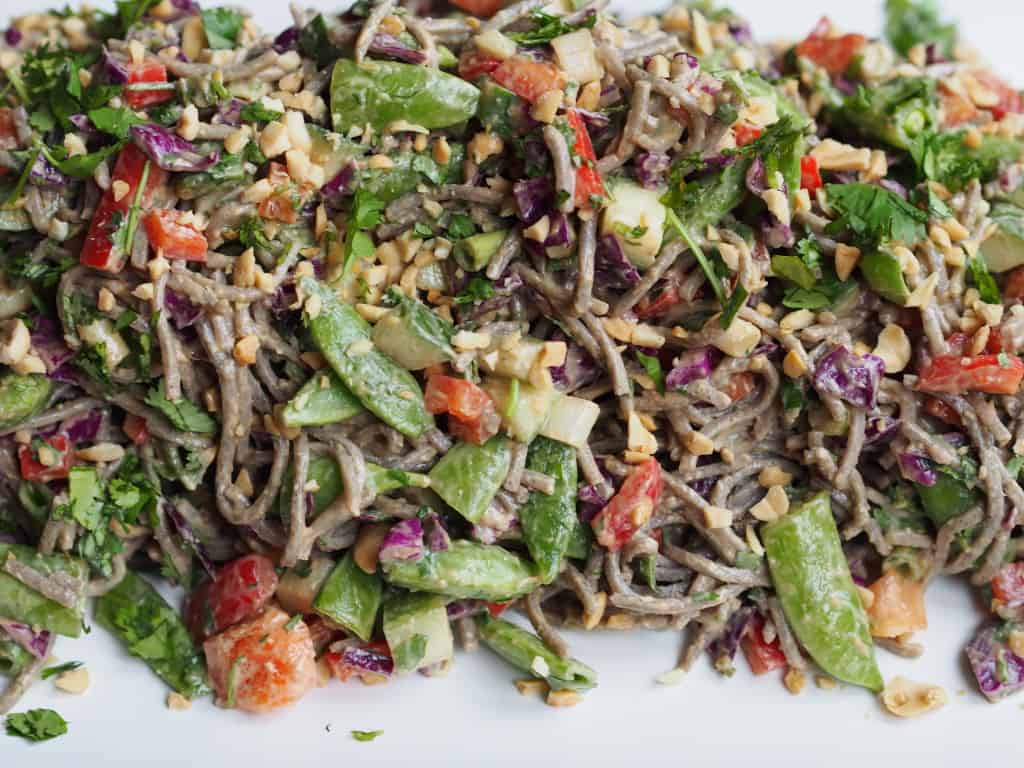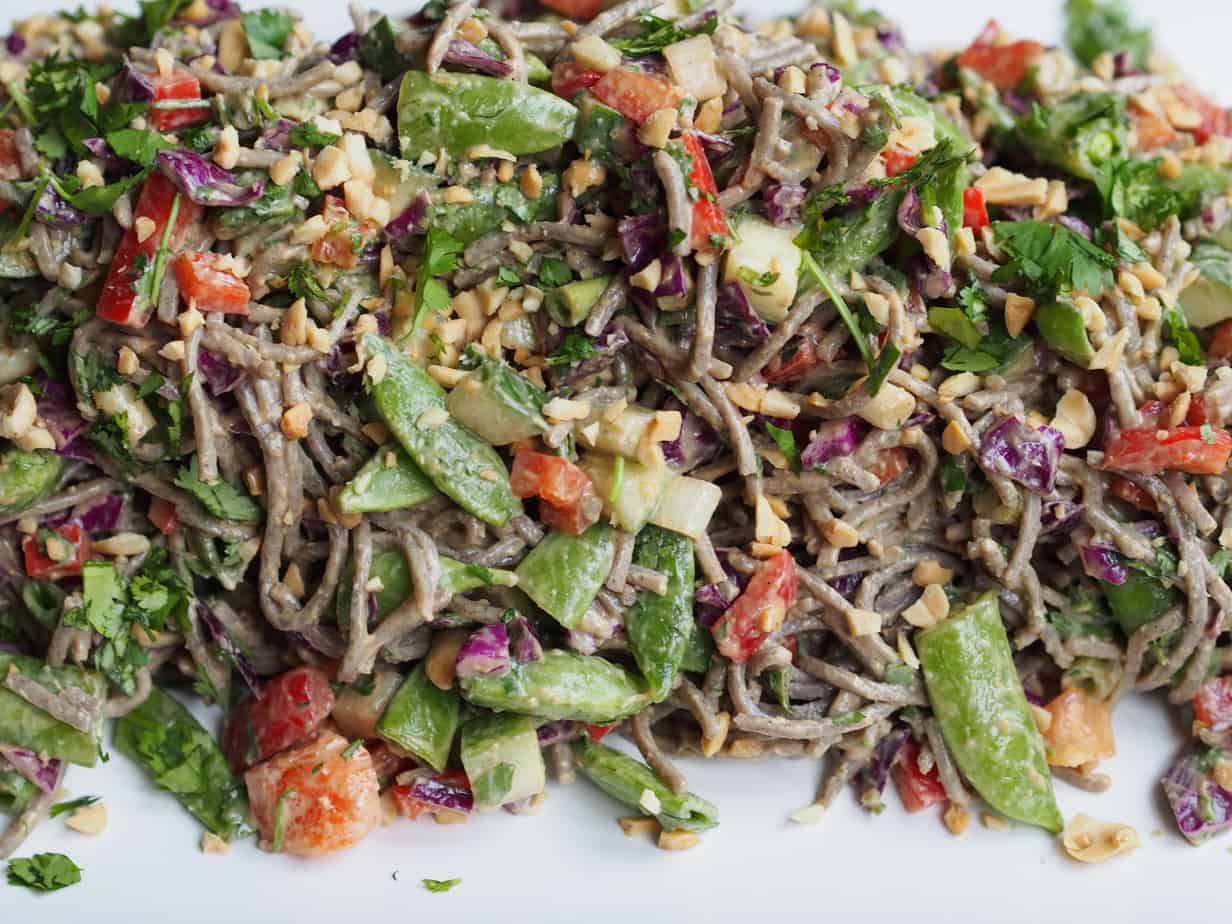 Soba Noodle Salad with Asian Peanut Dressing. Look how yummy this looks. No kidding, you should try this!
The other night we got together with some of our food blogging friends over at Chatfield Reservoir for some burgers and wine. I know weird combination but when we all get together, wine seems to always be involved! My friend Lea Ann at www.Highlandsranchfoodie.com and my new friend and follower at www.bigdudeseclecticramblings.com hung out at Larry's RV for a little fireside food and fun. Larry was in charge of the burgers and I brought Soba Noodle Salad with Asian Peanut Dressing. It was a nice side to perfectly grilled burgers!
The funny thing about the evening and if you live in Colorado, you will understand, there were more dogs at the get together than people. The funnier thing is that the "kids" ranged from Tea Cup Yorkshire Terriers to a mix of other small dogs and my 2 giant 90 pound labradoodles.  Everyone got along great, even the humans!
Despite the short rain storm and the 20 degree drop in temperature, it was a really fun night!
Try making Soba Noodle Salad with Asian Peanut Dressing this weekend. It's worth it!
Soba Noodle Salad with Asian Peanut Sauce
Author:
Prep time:
Total time:
Crunchy fresh vegetables and a creamy peanut dressing make this pasta salad over the top!
Ingredients
1 pound Soba Noodles (Asian Buckwheat noodles)
1 red pepper diced
1/4 head purple cabbage chopped
1 bunch green onion chopped
8 oz snap peas cut in half
1 small cucumber seeded and chopped
1/2 bunch fresh cilantro chopped
1/2 cup chopped peanuts
[br]For the Salad Dressing[br]
1 c peanut butter
1/4 tamari or soy sauce
3 cloves garlic minced
2 serano chilies seeded and minced
3 tbs honey
2 tsp sesame oil
1/2 lime juiced
1/2 c reserved pasta water
Instructions
Cook noodles according to package directions.
Reserve 1/2 cup noodle water, drain noodles and rinse with cool water. Set aside.
In a large bowl, add peppers, cabbage, green onion, cucumber and snap peas. Add Noodles.
In a medium size bowl, whisk together, peanut butter, tamari (soy), garlic, chilies, honey, sesame oil, lime juice. It will be thick. Add a little noodle water at a time to loosen the dressing. It took a 1/2 for me to make it right.
Pour dressing over noodles and veges until it is coated the way you like. (I had leftover dressing).
Toss in cilantro and peanuts
Enjoy
So, I pulled most of my vegetable garden this week! Here is a picture of the "last haul". Most of the veges for Soba Noodle Salad with Asian Peanut Dressing came from my garden! I will miss all the fresh organic veges and look forward to next growing season! Note to self…. Only one zucchini plant. I harvested over 180 of them this summer….