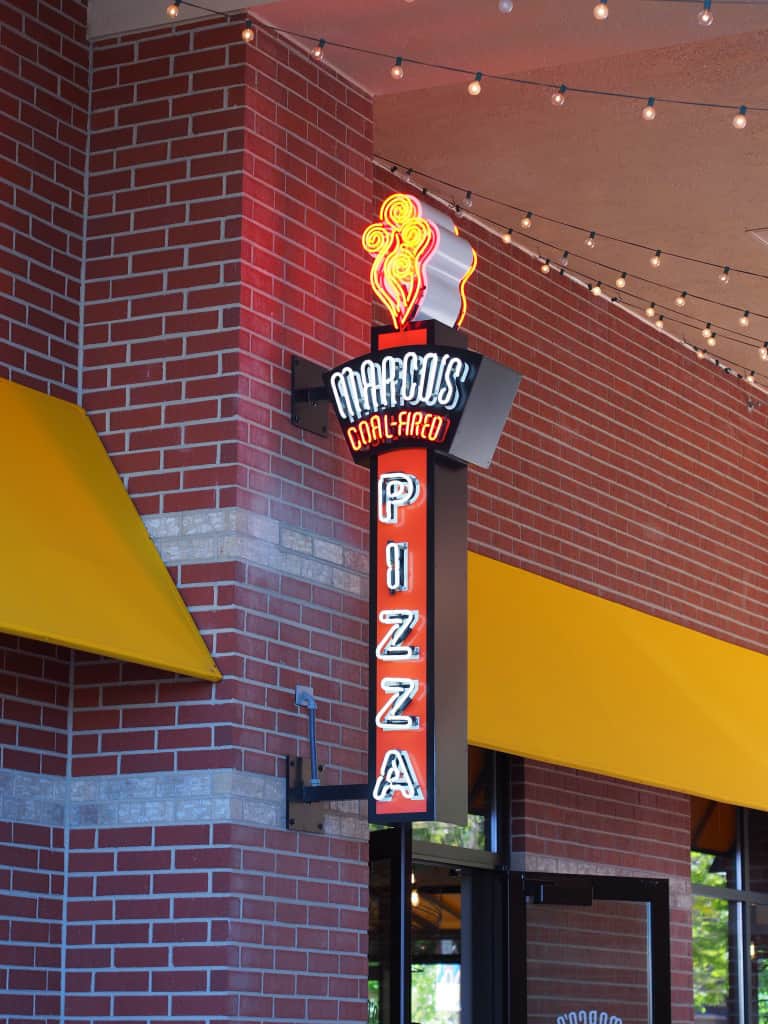 After living in Colorado for over twenty three years and not being able to find a good pizza, I stumbled upon Marco's Coal-Fired Pizza a couple of years back. Boy was I happy! An awesome pizza that I didn't have to get on airplane to get! Seriously, it's this good! Recently Lea Ann and I were asked to go to Marco's Coal-Fired Pizza  to taste test of their Fall menu. How lucky were we? I love this place. Marco's is the BEST pizza in town and I was more than happy to go and try something new at one of my favorite restaurants!
Marco's has two locations, Downtown and Inverness in the Tech Center.  Every time I visit Marco's,  the restaurant is packed with happy people and an amazing staff. Maybe it's the cool hip atmosphere, the beautifully stocked bar or maybe, just maybe, it's the terrific food! Marco's was recently nominated for Readers Choice Best Pizza in 5280 Magazine for 2013. Along with this top honor they have some pretty amazing accolades including a Zagat award, Westward Best Pizza, USA Today, Sunset Magazine and the list goes on!

Marco's Pizza is so great because they use only the BEST ingredients. This makes all the difference in the world to make a good "pie". Ingredients like Antico Molino Caputo '00' flour, tomatoes from the San Marzano region of Italy, cheeses from the Italian countryside and fresh produce from Colorado.  Along with amazing ingredients, their pizza makers are trained by the Associazione Pizzaiuoli Napolitani, a group of Pizzaiuoli that are regarded as the best in the world. Marco's is is certified by the Associazione Verace Pizza Napoletana, the only VPN certified pizzeria in the State of Colorado. All of this is why Marco's is the best place for pizza in the state. Hand's down, finito, period….

Our lunch began with two of Marco's signature fall cocktails. Of course… A "Rocky Mountain Splash" a delicious drink made with locally made Leopold's Bro's Rocky Mountain Peach whisky. I'm not a whisky drinker, but all I can say is yum (bottles of Leopold's will be great x-mas gifts). Then we sipped on Pumpkin Graham Latte made with Captain Morgan's Spiced Rum. This warmed the tummy on the cool fall day. Both delicious.
Let the pizza begin. Marco's has two new fall pizza specials and both worth a try and if you are a vegetarian you will be in pizza pie heaven. The first pizza we tried was the Starita. A lovely blend of a walnut and pine nut cream sauce, smoked bufala mozzarella, fried zucchini, pecorino romano and a drizzle of EVOO. A nutty flavored pizza, something that I have never tried before. It's really delicious. Then we tried their Pizza Del Papa. A delicious blend of Roasted butternut squash cream sauce with roasted bell peppers, artichoke hearts and smoked bufala mozzarella cheese.  Both pizzas are definitely worth ordering and were great as left overs the next day!
My favorite pizza at Marco's is their Pistachio Pizza with sausage. I have to mention this because I never go without ordering one. Sometimes I order two and take one home with me, don't tell.  It's that good. The crust, pistachio cream, sausage, bufala mozzarella cheese and EVOO make for the best flavor combination and my ultimate go to pizza in the state! I also always order a batch of their Limoncello chicken wings. They marinate these beauties with Limoncello and a large array of spices for 48 hours and bake them in their super hot coal fired oven.  They are unbelievable and so good, I had to figure how to make them at home because I can't get enough of them.
Give Marco's Coal Fired pizza a try. Their menu is all good. Salads, sandwiches, gluten free items, deserts.. It goes on and on. Just make sure you order a pizza. Enough said…