Today is one of those Colorado spring days when it's hard to get anything done! Spring fever is in overdrive as well complete excitement that my Alma Mater, University of Denver, won the national championships in hockey last night! It's kinda been a whirlwind 18 hours and to make things even harder, The Masters is on TV. Geez, what's a girl to do? Turn the volume up on the TV and go to my office to get this post out!  I'll multi task. 🙂
When I say that Spring Fever is in overdrive, I mean it. I had to go play in my garden this morning because I have plants coming up that I usually don't see until May. A  little spring cleaning was in order along with tiling the soil so the plants can start to breath. I guess with an abnormally warm and dry winter, this happens. The problem is that I just want to go and buy all my annuals for all my pots and I can't just yet. Hardly seems fair with all this beautiful weather.
So with Spring in the air, I have to come to the realization that Easter is just around the corner. It's crazy how time goes so quickly, I swear it was just Christmas! With the thought of Easter, one of my favorite things to make this time of year is lamb. I'm not quite sure why I don't eat more of it because it is so good and the rack of lamb cooks relatively quick!
When we think of lamb, we generally think of mint jelly. Truth be told, I'm not the biggest fan of mint jelly but I do like the sweetness that it brings to lamb, especially if it is a little gamy. I was thinking about what goes with fresh herbs, garlic and crispy bread crumbs but that wasn't mustard which is what is normally used as an "adhesive" for bread crumbs on lamb. Honey was the perfect ingredient that came to mind. It gives the sweetness of a mint jelly but holds the bread crumbs perfectly in place. Honey Herbed Rack of Lamb is right up the ally for being a new favorite! Give this recipe a try for your Easter table. It comes together in 30 minutes or less and it is even delicious at room temperature!
Enjoy!
Honey Herbed Rack of Lamb
Author:
Honey Herbed Rack of Lamb has just a hint of sweetness from the honey that pairs great with savory herbs and garlic. You won't need to grab your mint jelly for this one!
Ingredients
1½-2 pound "Frenched" rack of lamb *
½ cup panko bread crumbs
2 teaspoon fresh rosemary, minced
1 tablespoon fresh thyme, minced
½ teaspoon granulated garlic
½ teaspoon salt
1 teaspoon pepper
2 tablespoons olive oil
2-3 tablespoons honey
Instructions
In a small bowl, mix together the bread crumbs, thyme, rosemary, garlic, salt, pepper and olive oil. Set aside.
Prepare the rack of lamb by scoring the fat in a diamond pattern and season with a pinch or two of salt and pepper. See picture below).
In a large saute pan, heat up about 2 tablespoons of olive oil over medium high heat. Place the lamb rack in the pan and brown for 2 minutes. (Set your timer). Remove and let cool for 10 minutes.
Cover the rack in honey, including the sides and the bottom. Place the bread crumbs evenly over the lamb.
Place the lamb on a tin foiled lined baking sheet and roast in a 400 degree oven for 15 minutes.
Remove from the oven and check the temperature of the meat. Lamb can over cook quickly so you need to start paying attention at 15 minutes. Roast until thermometer inserted diagonally into center of meat registers 120°F about 5-10 minutes longer.
When the temperature reaches 120 degrees, remove from oven and cover with tin foil and let rest for 10 minutes. The lamb will continue to cook while covered.
Serve when the internal temperature reaches 125-130 degrees for rare-medium rare.
Cut down the bones to make either 3-4 double chops or cut for single chops.
Notes
You will need a instant read thermometer or a digital thermometer for this recipe. Lamb cooks quickly and you really need to pay attention to cooking temperature or you could have well done meat faster than you think! [br][br]All the rack of lamb that I have seen sold comes "Frenched" already. If your's doesn't come this way, have your butcher do it for you. [br][br]Make sure that you save the tasty bread crumbs that fall off when you cut the chops for serving! They are great sprinkled over roasted potatoes!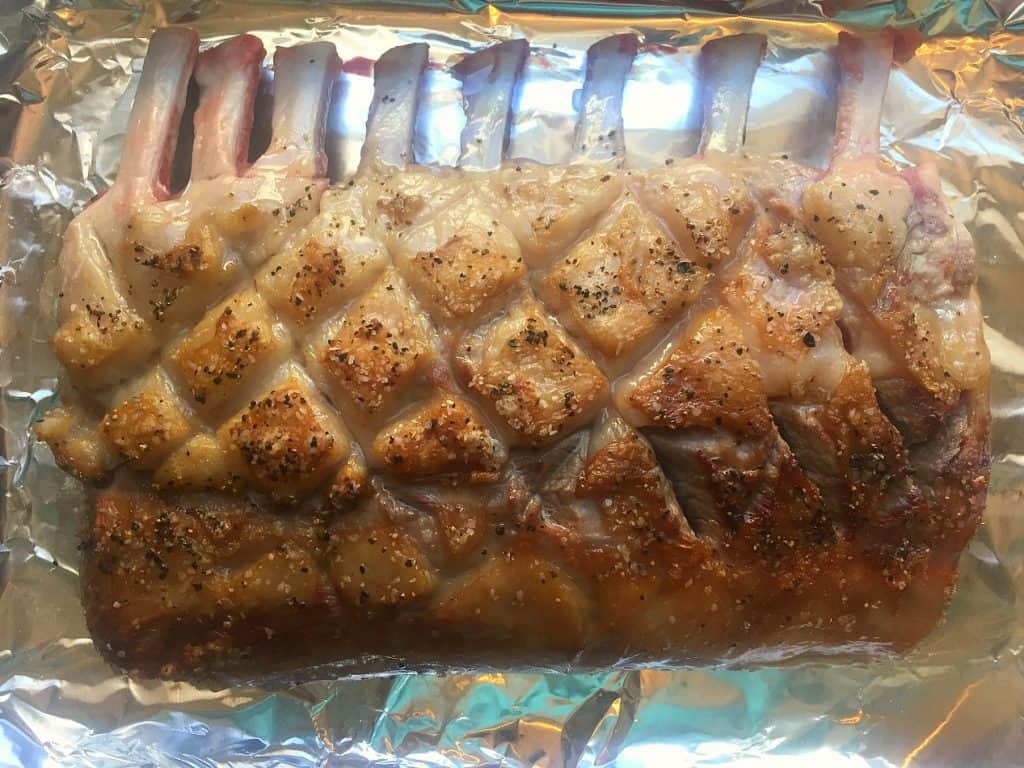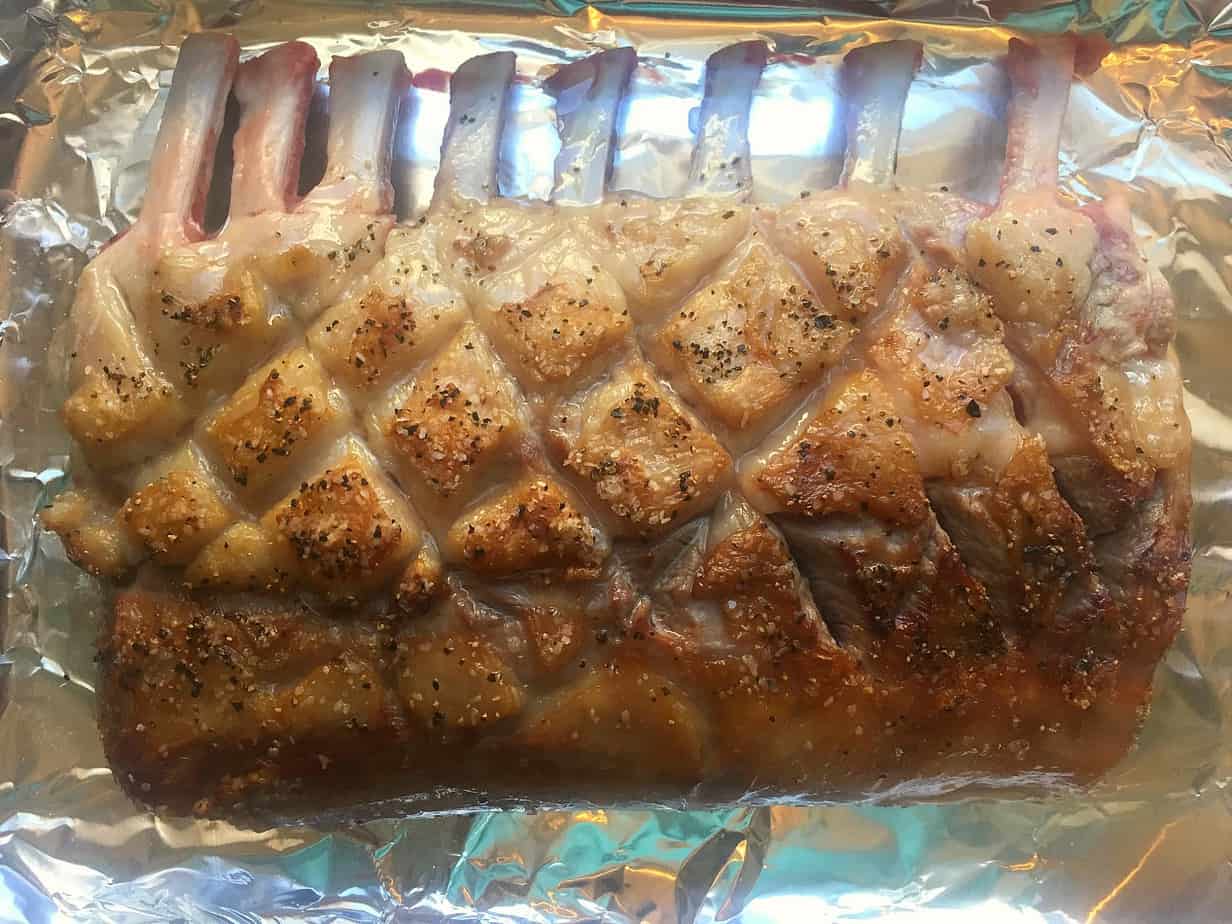 Scored and seared. Ready for a healthy dose of Herbed Bread Crumbs!