Happy Easter everyone!
Well, it's for sure springtime in Colorado! I love it! We got a bunch of snow and rain pretty much every evening this week followed by warm sunny days! I am literally watching leaves come out and the grass turning green by the minute! It's so cool to experience and truly makes me smile! It also makes me smile that I got in my first outside tennis match of the season (not that we couldn't have played outside already but I have reserved indoor courts for the next few weeks) but I got to go skiing with my Dad at Keystone Resort! Not to mention, I have been able to work on my tan! Just a great week!
So this week, I put it out there on my Facebook page what people wanted me to make this week. It seems that comfort food and things on the grill were the most requested. Being that grilling season is just around the corner, I thought I'd get a couple more comfort foods in the mix. So I decided on Chicken Parmesan Sandwiches. Yum. I jazzed these up by putting them on garlic butter ciabatta rolls and adding a ricotta cream sauce! Yeah, I don't mess around. So good.
Of course, if making sandwiches isn't your thing, you can make a traditional chicken parmesan! Just follow the directions for everything except the bread. On the bottom of a baking dish (large enough to hold the chicken), spread half of the tomato sauce evenly on the bottom, add the chicken, top with more tomato sauce and the ricotta cream. Finish with slices of provolone and parmesan cheese and bake in a 400-degree oven until the cheese is melted. Yum! Easy and delicious!
Here are my thoughts on breadcrumbs. Regular vs Panko. I prefer Panko hands down.  It has a much crispier texture and holds its texture better than regular breadcrumbs after cooking. I will say though, the rougher texture of the Panko can get a little "burnt" a lot quicker if you don't keep an eye on it! I figured that if you put the Panko in a large plastic bag and go over it a few times with a rolling pin, you can break up the bigger pieces and it makes it a better consistency for breading your food. It's my tip on using Panko in a more suitable way, or at least for me. Try doing this! It really works, especially for foods baked in the oven!
Can you believe it? Just when I wanted to make something with chicken tenders, my grocery store didn't get their order in! So I improvised! I bought a pound and a half of chicken breasts, cut them in half and then into strips! Voila! Instant chicken tenders. Probably less expensive this way too! It's a win-win situation!
See what I mean. You couldn't tell if these were pre-cut chicken tenders or my way. Also, notice the panko breadcrumbs. A better consistency for baking up super crispy chicken tenders! These turned out so tasty that may I suggest that you make them for you goto chicken tender recipe. I'll be making these again to chop up and put on a big salad! Oh my, the possibilities are endless!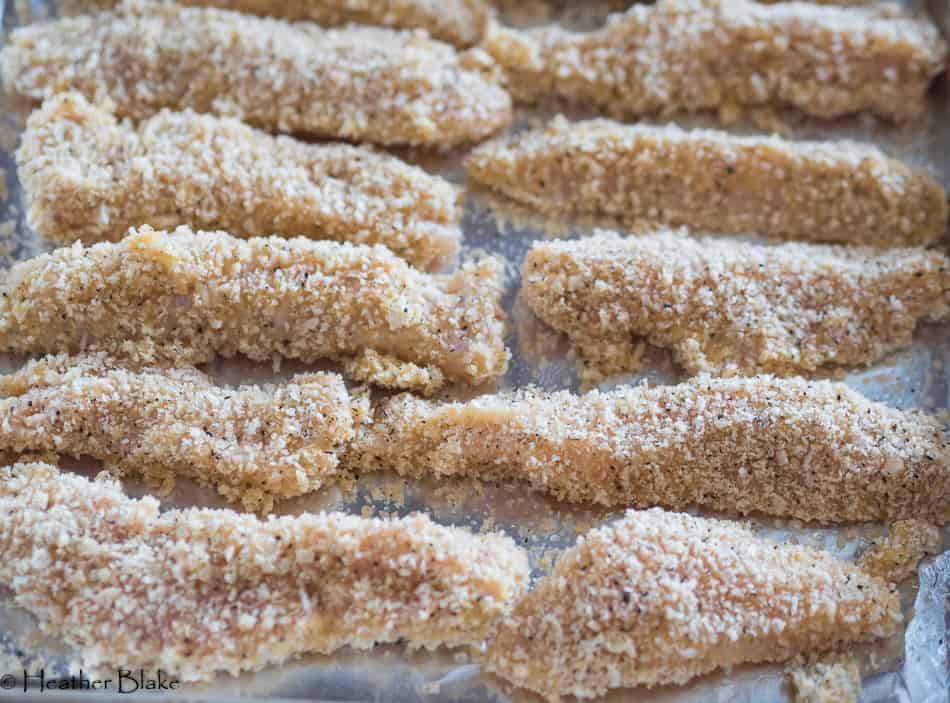 Chicken Tenders ready for the oven!
Chicken Parmesan Sandwiches
Chicken Parmesan Sandwiches is a fun way to enjoy a favorite! I topped these with a ricotta cream sauce and marinara! Oh, I can't forget the garlic bread!
Ingredients
For the Baked Chicken Tenders
1- 1/2

pounds

chicken tenders

1

cup

flour

seasoned with 1 teaspoon of salt and pepper

2

eggs

+ 3 tablespoons water

2

cups

Italian seasoned Panko breadcrumbs

crushed
For the Marinara Sauce
1/2

cup

diced onions

3

teaspoons

minced garlic

24

ounces

tomato puree

2

bay leaves

1/2

teaspoon

salt

1/2

teaspoon

pepper

2-3

teaspoons

sugar

to balance out the acidity, you decide how sweet you like it

1/4

cup

fresh basil leaves

rolled into a "cigar" and sliced thin
For the Ricotta Cream Sauce
1

cup

whole milk ricotta cheese

3/4

cup

whole milk

1/4

cup

fresh basil leaves

rolled into a "cigar" and sliced thin

1/2

cup

grated Parmesan cheese

1/4

teaspoon

salt and pepper
Additional Ingredients
4-6

ciabatta rolls, sliced in half

Provolone cheese

1

stick

butter

melted

3

teaspoons

minced garlic

2

teaspoons

dried parsley
Instructions
Make the Marinara Sauce
In a medium-sized soup pot over medium heat, add the olive oil. Stir in the onions and garlic and saute for 5 minutes or until the onions become translucent.

Stir in the bay leaves, tomato puree, basil, salt and, pepper. Reduce heat to low, cover and simmer for a half an hour. (About halfway through, taste and add sugar to taste if needed).
For the Chicken Tenders
Heat oven to 425°F. Line cookie sheet with foil; spray with cooking spray.

In shallow dish, place flour seasoned with salt and pepper. In another shallow dish, beat eggs with a little water. In a third shallow dish, add the breadcrumbs. Coat chicken with flour, tapping off any excess flour; dip into egg mixture, then coat with the breadcrumbs. Place the tenders on a cookie sheet.

Before placing in the oven, sprinkle the tenders with a pinch of salt or two.

Bake for 15-17 minutes or until the tenders are cooked through and no longer pink.
To Make the Ricotta Cream Sauce
In a medium-sized bowl, whisk together the ricotta, milk, parmesan, salt and, pepper. Set aside.
To Make the Garlic Bread
In a small bowl, soften the butter. Add the garlic, parmesan, parsley, salt and, pepper. Combine well.

Cut the bread in half and evenly spread the garlic butter on both sides.

Place on a baking sheet and put under the broiler until the bread begins to brown. Keep an eye on this, it can burn quick! Remove from broiler and set aside.
To Assemble the Sandwiches
On the bottom half of the toasted roll, place a dollop of the marinara sauce. Place 2-3 tenders on top and put a slice or two of provolone cheese over the chicken.

Place back on a baking sheet and put back under the broiler until the cheese begins to melt.

Once the cheese is melted, on the other half of the bread, place a dollop of the ricotta cream sauce. Place on top of the chicken and serve.

Serve with additional marinara and ricotta cream!