This weeks recipe was inspired by my dear friend Jill. She called and asked if I had a recipe for White Bean Chicken Chili. I thought surely I had because I love making chili but low and behold I didn't! Wait, what? How was that possible? I have 50 chili recipes but not one white bean one. That changed quick!
One thing that I really don't care for is white bean chicken chili that is made "white" by adding sour cream, cream cheese or a flour slurry. To me, that not chili but more of creamy soup with beans. It is also not so healthy. So I made my chili thick (like it should be) with a white bean puree. It's not only hearty but it's packed full of great flavor, loads of protein, lots of fiber and low and behold it's gluten-free if made with homemade beans and not from a can.
Chili should be a rich healthy bowl of goodness. This White Bean Chicken Chili certainly fits that bill. Besides making your own beans from scratch, this recipe for chili comes together pretty quick (for chili) and honestly something great to make on a lazy Sunday afternoon!
My Thoughts on Dried Beans
We should all eat more beans! 🙂
I think that most people are afraid of cooking dried beans because they think that it takes too long, especially with the overnight soak. Well, the good news is that if you follow my method you can successfully cook your own beans in about an hour! The trick is that you need to bring the beans to a boil and boil for a few minutes before covering the pot and reducing the heat. Beans of any kind are cooked the same way and are a great way to add great plant-based protein and fiber to your diet!
There is a giant myth out there that you shouldn't cook dried beans with salt. Some say that it "toughens" the beans. This is simply not true. In my opinion, you need to add a small bit of salt to the beans to give them flavor during the cooking process. Be aware though, since the beans absorb the water during the cooking process if you add too much salt, the beans will absorb the salt and become too salty. So as the saying goes, "a little dab will do you"!
When cooking beans at home, add some garlic and bay leaves to the cooking liquid! This adds great flavor to the beans. Fresh thyme and rosemary would also be nice additions to the beans as well.
Don't be intimidated about cooking beans. They are way more delicious than the canned varieties, very economical and healthy. The good news is that if you make a big batch of beans, you can freeze them for later use! You see there are plenty of reasons to make your own beans at home!
Are you looking for other chili recipes? Check these out!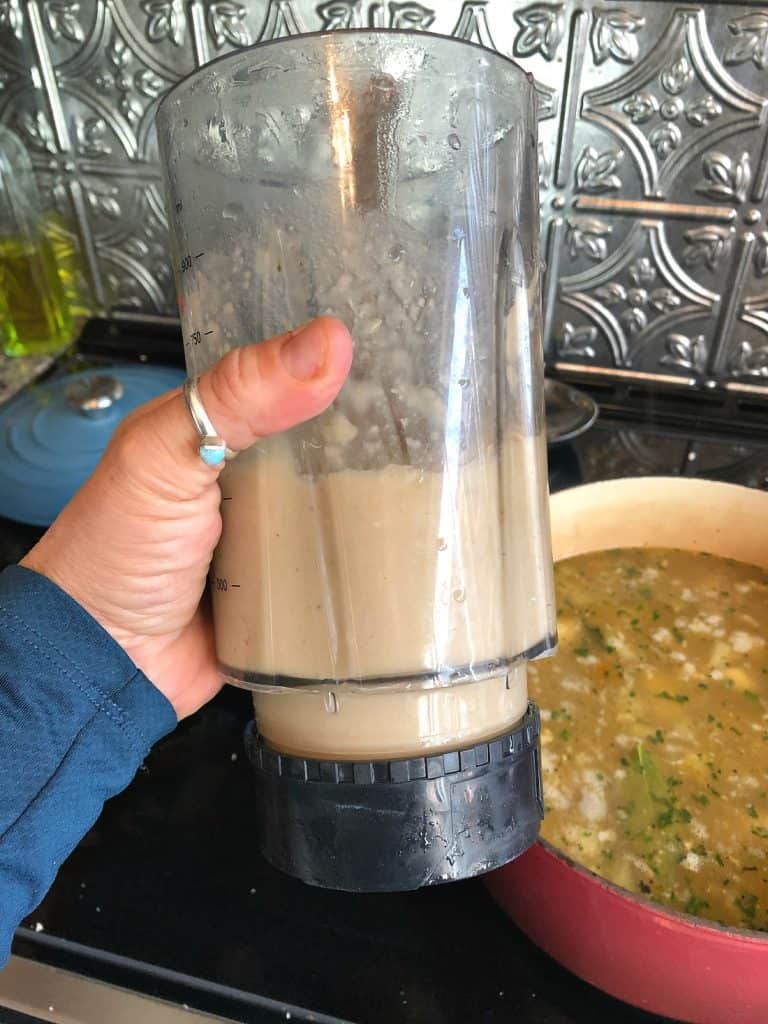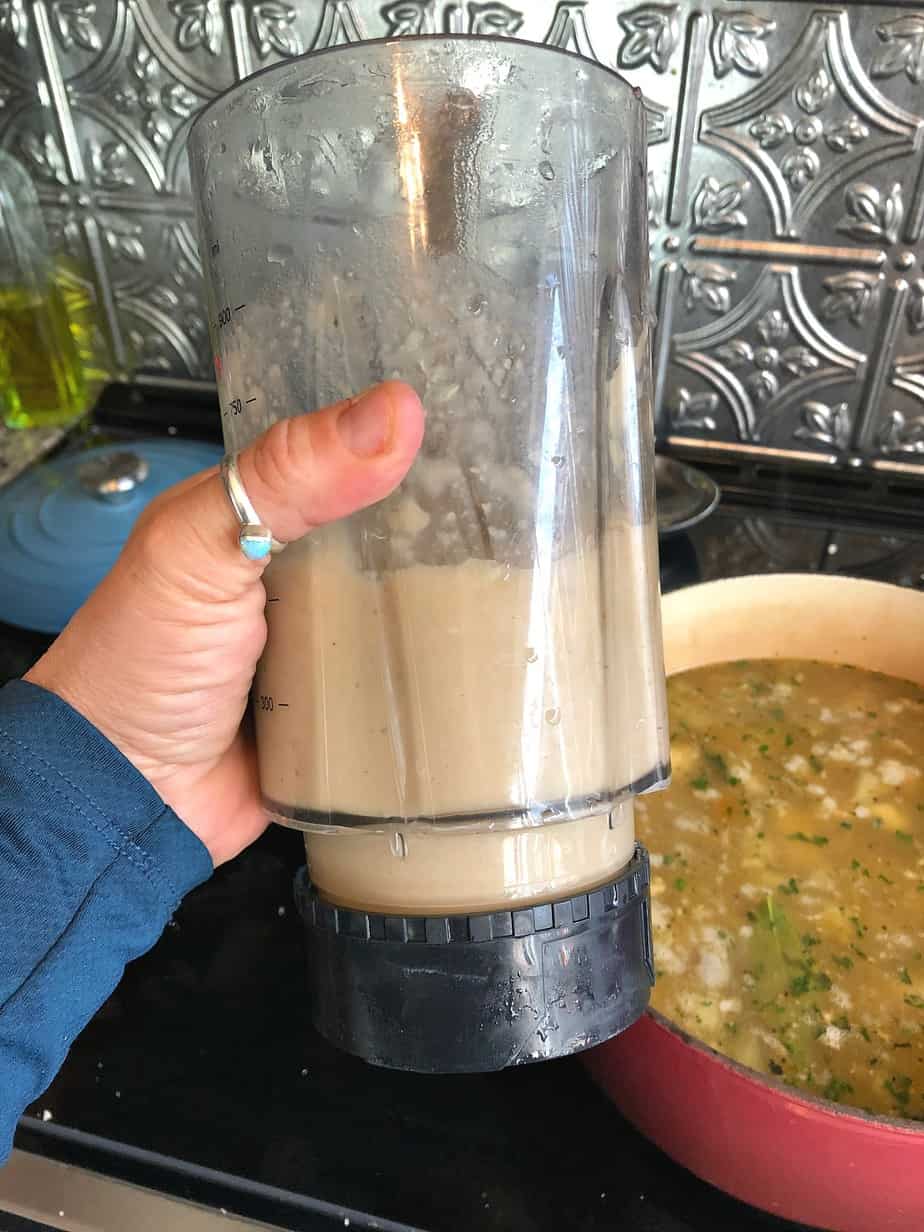 White Bean Chicken Chili
Ingredients
To Make The Beans for the Chili
1

pound

bag Navy Beans

3-4

garlic cloves, smashed

1

tsp

salt

2

bay leaves
For the Chili
2-3

tablespoons

olive oil

1

cup

diced onions

1

tablespoon

minced garlic

1

cup

chopped Hatch green chilies

1

rotisserie chicken, chopped

about 2 1/2- 3 cups

3

cups

cooked navy beans

2

teaspoons

ground cumin

1

teaspoon

corriander

1/2

teaspoon

salt

1

teaspoon

pepper

2

bay leaves

2

teaspoons

dried cilantro

1

teaspoon

Mexican oregano

6

cups

chicken stock

remaining bean puree

1/2

cup

chopped fresh cilantro (optional)
Instructions
To Make the Beans
In a medium-sized stock pot add the beans, garlic cloves, bay leaves, and salt. Cover with 6 cups of water. Bring the beans to a boil and cook for 4 minutes at high elevation and 2 minutes at lower. Reduce heat to low, cover and cook for 1 hour 15 minutes, stirring occasionally. Remove from heat and set aside.
To Make the Chili
Coat the bottom of a large soup pot with olive oil of medium-low heat. Add the onions and cook them until translucent. Stir in the garlic, green chilies, cumin, coriander, salt, pepper, bay leaves, cilantro, and oregano. Heat through until fragrant, about 3 minutes.

Remove 3 cups of the cooked beans (draining and reserving the liquid) and add to veggies. Stir in the chicken. Cover with the chicken stock.

Remove the bay leaves but leave the garlic in with the beans. With either an immersion or a regular blender (in small batches) blend the remaining beans with the cooking liquid until smooth. If you need more liquid, ladle in a bit of the chicken stock. Stir into the chili.

Reduce the heat to low, cover and simmer for 1 hour. Stirring occasionally. Adjust seasoning if necessary and stir in the fresh chopped if desired.