Ah, Pimento Cheese, where have you been all my life? Well, not really, but seriously where has this Best Ever Pimento Cheese been…. In my friend Pam's head , that's where! There is a story behind this recipe which I can't wait to tell you about.
What is Pimento Cheese?
Pimento Cheese is a traditional Southern spread that is made with sharp cheddar cheeses, pimentos, and mayonnaise. It is served as a snack or appetizer with bread, crackers or veggies. Sometimes it is even made into a sandwich or deviled eggs. It is deliciously addicting, I promise.
The Truth Behind this Pimento Cheese
One of my good friends, Pam, is from the South. She is a born and raised Southerner who loves to cook kind of friend.  The best kind in my opinion.
Anyway, a few weeks back, I was at her place and she whipped up a batch of her famous Pimento Cheese. I was really excited about this as I was going to learn to make this spread from the master. Of course, in true Southern Cooking fashion, she literally "whipped" it up without a recipe. So, I paid close attention to the process so that I could write it down for all of us!
Choosing the right cheese and peppers is the key!
As with any homemade, from scratch recipe, it's imperative to use the right ingredients. This pimento cheese is made with 3 types of roasted peppers instead of jarred pimentos and a "good" quality cheddar cheese.
The trick to this recipe is that you buy the best cheddar cheese that you can afford and shred it your self. I honestly used a Kerrygold sharp white cheddar (as my higher end component) and a regular medium cheddar block cheese from the deli section. This combination was great for this spread as it's bold from the higher end cheese and mellowed out a tad from the medium cheddar. It's a great combination and one that I suggest that you try!
Roasting Peppers
To me, roasting your own peppers is paramount to making a beautiful Pimento Cheese. Roasting peppers add a little time to the whole process but it is so worth it. I like to roast my peppers in an oven for about 40-45 minutes or until they become darkened and soft but you can also put the peppers over a flame if you have a grill or a gas stove. Whatever way that you choose is OK,  so do whatever method suits your needs.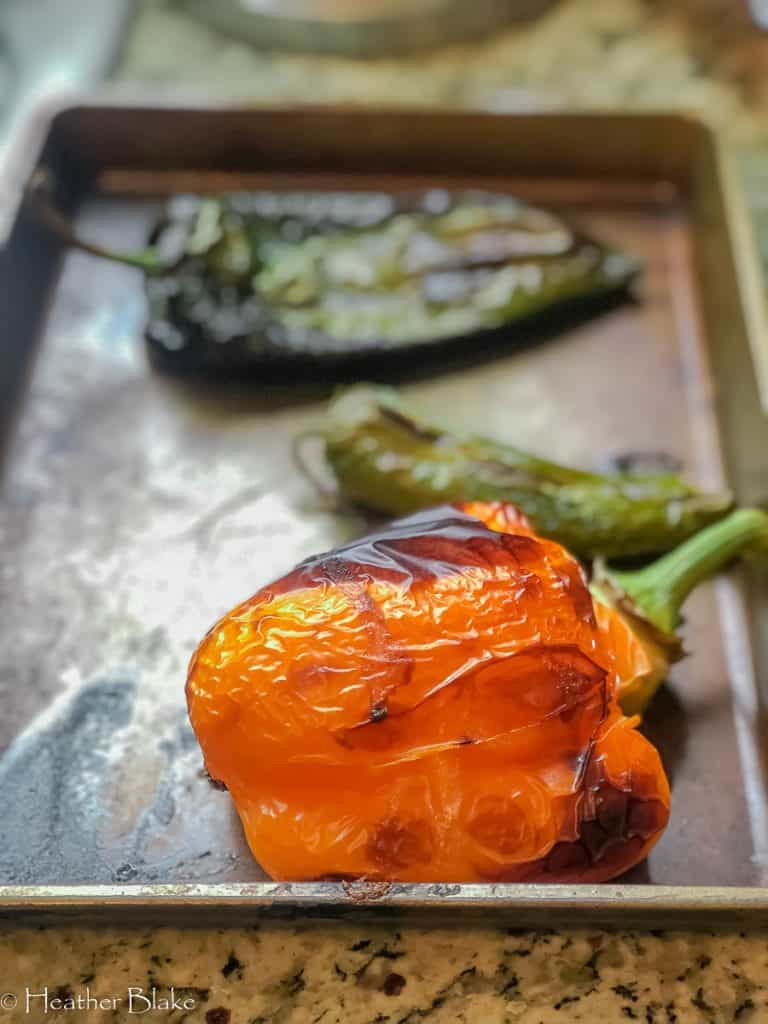 I had to roast my peppers in the oven because the weather was crummy, but they turned out beautiful. This is after about 45 minutes!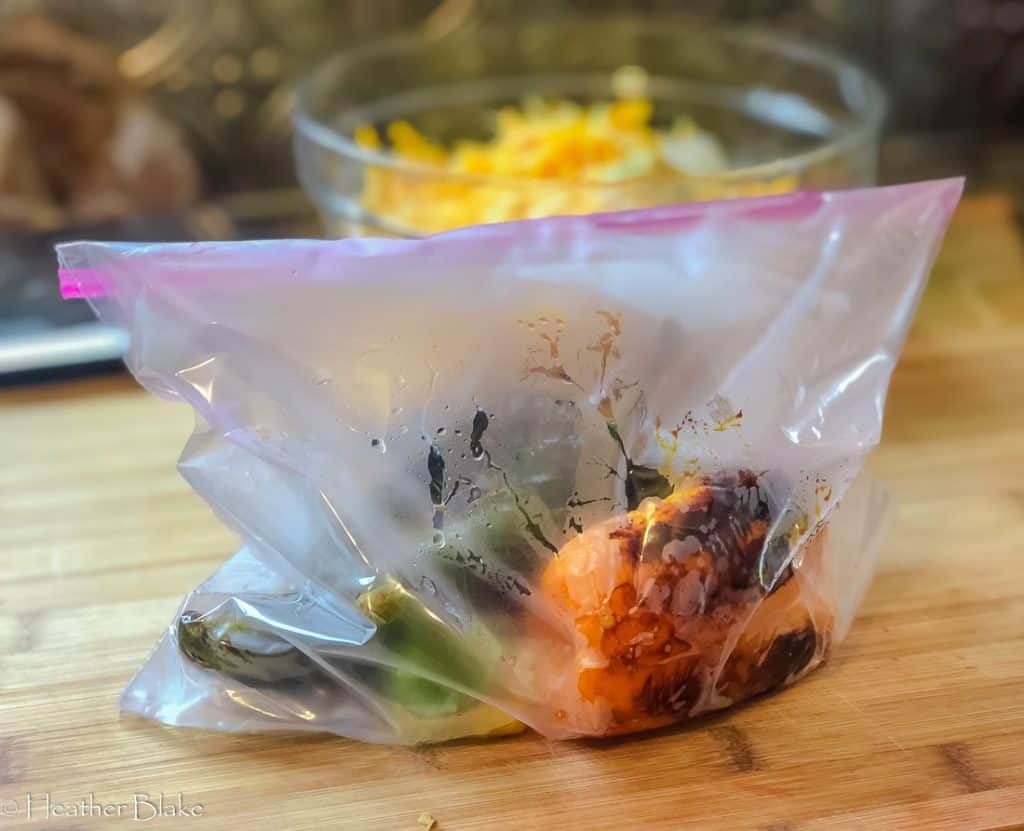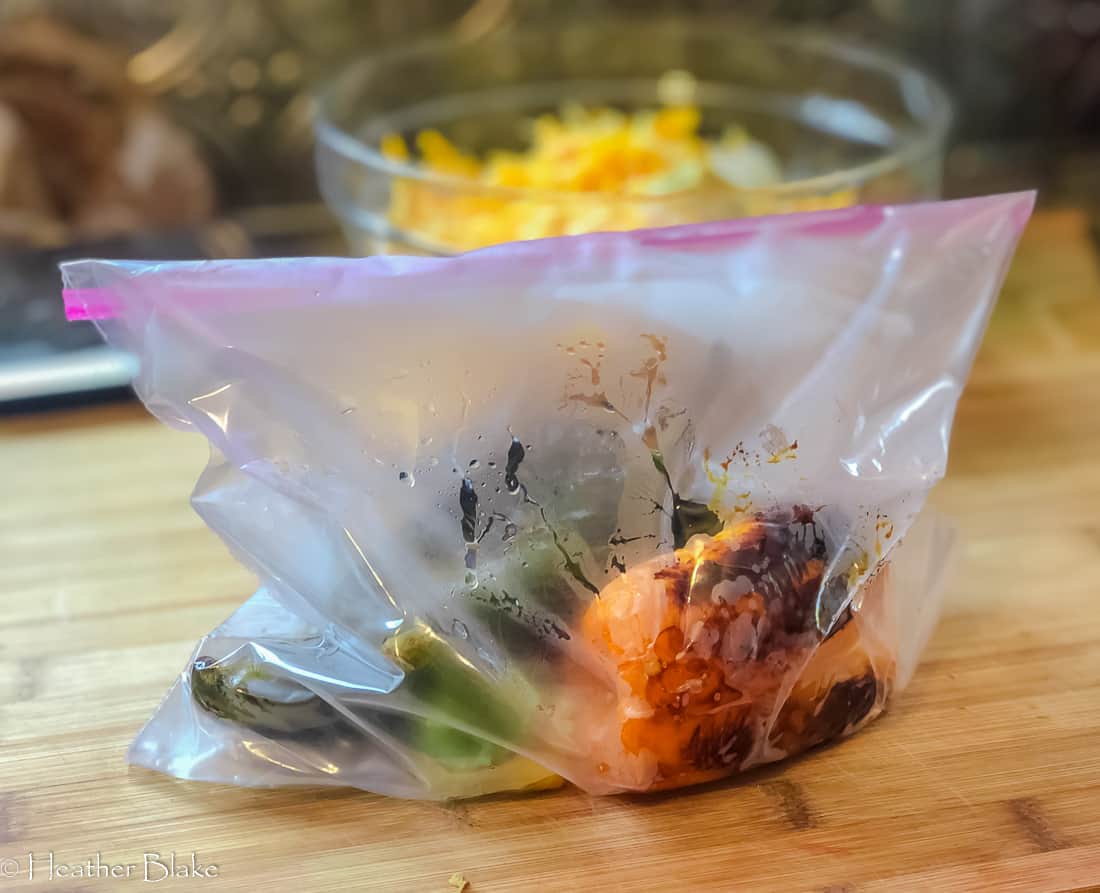 After roasting the peppers, place them in a zippy bag for about 15 minutes! The skins will just slide right off!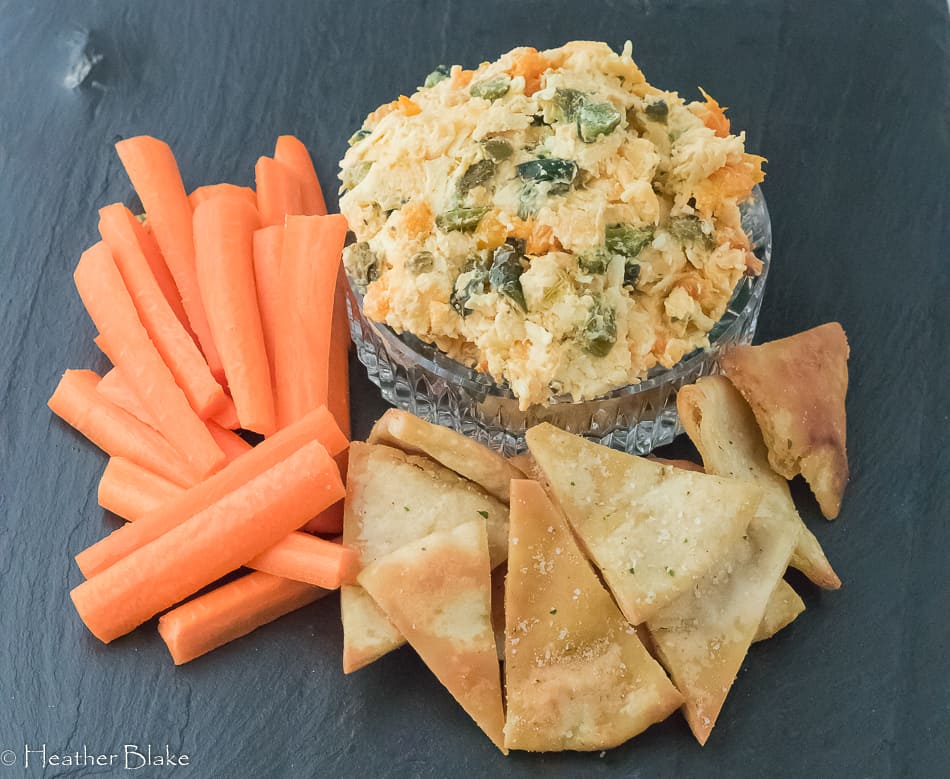 Now, this is a perfect afternoon snack! I died and went to heaven!
Other Homemade Spreads and Dips
Smoked Salmon Vegetable Spread 
Best Ever Pimento Cheese
This is (in my opinion) the Best Ever Pimento Cheese ever! It's packed with two types of cheddar cheese and 3 types of peppers! I promise you, it's addicting!
Ingredients
1

red, yellow or orange bell pepper

1

poblamo pepper

1

jalapeno pepper

7

ounces

good quality cheddar cheese, grated

I used Kerrygold

7

ounces

medium sharp block cheddar cheese, grated

2

tablespoons

grated onion

Pinch

granulated garlic

2

teaspoons

Dijon mustard

1/4

cup

good quality mayonnaise

Pinch

salt and pepper
Instructions
Pre-heat the oven to 450 degrees. Place the peppers on a cookie sheet and roast until the skin of the peppers is blackened on all sides. Alternatively, you can roast the peppers over an open flame or on the grill. Turn the peppers throughout the process to get even browning. Once the peppers are soft and blackened, place the peppers in a zippy bag. The steam will enable the skins to come off easily after about 20 minutes. Once you remove the peppers, carefully cut the stem of and remove the seeds. Finely dice the peppers before adding to the cheese.

With a box grater, grate the cheeses and the onion. Place in a large bowl.

Add the mustard, the garlic, salt and pepper to the cheese and onion. Stir in the chopped peppers and mayonnaise and combine well.

Serve with veggies, crusty bread or crackers. Room temperature is best. Store in the refrigerator for up to 2 weeks.